By Ruth Richter • October 11, 2022
Blog
|
Technology Made Easy with Sage 100 E-commerce and IN-SYNCH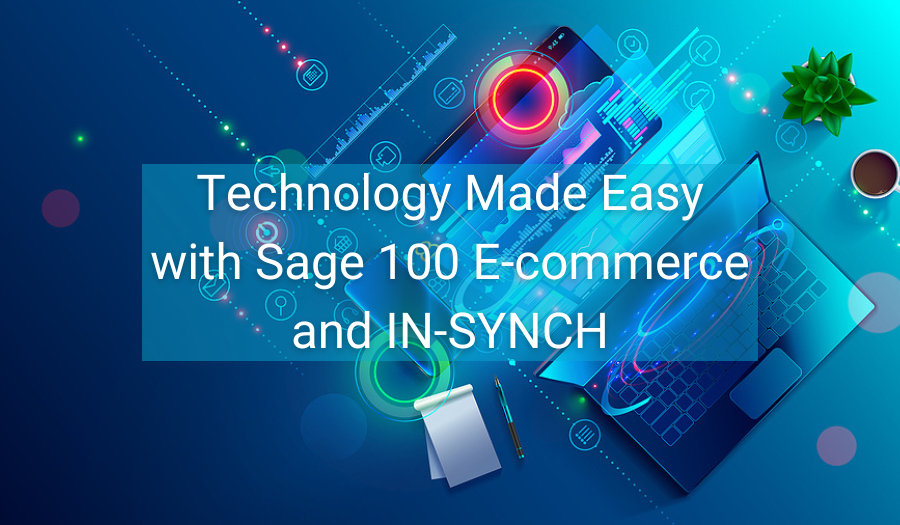 Technology can seem daunting to any business owner or executive, and for some industries, the idea of automating seems even more out of reach. Manufacturing and distribution often lag behind others when it comes to embracing digital transformation. According to a 2022 Deloitte Manufacturing Industry Outlook, "Manufacturers looking to capture growth and protect long-term profitability should embrace digital capabilities from corporate functions to the factory floor," and in fact, "Investment in artificial intelligence technologies is also expected to see a compound annual growth rate (CAGR) above 20% through 2025."
An age-old question that accounting system consultants are familiar with addressing is, "how can companies who have been running their business the same way for years benefit from embracing new technology?" An effective way to illustrate the "What's in It for Me (WIFM)" is by providing examples of other businesses that have successfully made the shift to new technologies and reaped positive results.
MIGALI
Migali is an internationally recognized commercial refrigeration manufacturer and distributes its products worldwide through a channel of authorized dealers. Their customer-forward approach led them to realize they had a problem; because their base had become so big, they were receiving nonstop calls from their loyal and eager customers for inventory and price checks—all day, every day—to the point where they had to have an employee work full time answering these calls.
Then they added an online portal so customers can easily access the information they need, such as inventory availability and prices—anytime, anywhere. They partnered with ROI and were set up with our IN-SYNCH solution which connected their various systems to automatically keep the inventory and order data up-to-date. This is a great improvement to their customers' experience. Read more about this exciting success story.
PALMETTO PARTS
Palmetto Parts was a regional supplier of plumbing, lighting, and electrical parts until the customer base expanded to also include schools, hospitals, prisons, condos, and plumbing contractors. The Palmetto Parts Company's requirements for the front-end website were complex. The system needed to manage over 75,000 SKUs of very technical products and the company knew the volume was too large to work with two separate systems as it provided too much potential for data error.
Bill Meany, VP of Sales, "decided to take the plunge" after finding ROI's IN-SYNCH solution. The new system is a great tool for Palmetto Part's sales force. Their outside salespeople were using their iPads to look at the online catalog. "When our sales reps walk into customer facilities, they have instant credibility," Bill said. "Our website is impressive, and it gives the customer confidence in us. If they want something, they can just log in and find it." Learn more.
PONDLINER
Pondliner.com, a division of Unit Liner Company, was launched in 1998 to meet market demand for pond and water garden supplies. They have thousands of SKUs and sell everything from complete pond kits to a vast array of individual items including water pumps, outdoor furniture, bubbling rocks, and koi. In addition to a retail e-commerce website, they serve as a wholesale distributor and have a local store in Shawnee, Oklahoma. In 2001, the business switched to Sage 100 to manage its growing needs and added a call center to take orders. In 2010, they found IN-SYNCH and worked with the ROI team to connect the Pondliner.com e-commerce site with Sage 100.
With automated e-commerce integration, Pondliner.com was able to be more efficient and increase profitability. The business tripled the number of orders it could process in one day—with fewer people. Price changes made in Sage move directly to the e-commerce sites, eliminating all the manual input. The number of people required in the call center was cut in half. Now, the call center can focus on providing superior customer service with trained water garden technicians. Read the success story.
Take the Plunge!
Taking on digital transformation can be understandably daunting but keeping up with today's digital landscape doesn't need to be intimidating. With decades of experience, ROI makes integration easy. With our significant portfolio of Sage 100 integrations and countless solutions, ROI was and still is the perfect partner to solve all your current and future e-commerce integration needs. Contact us today!