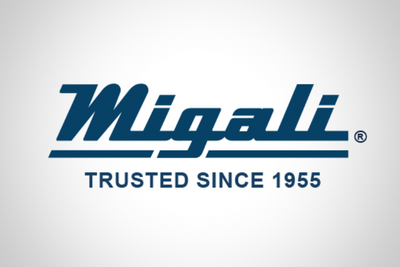 How This Refrigeration Equipment Company Changed the Customer Experience with Sage 100, Inverse Paradox, and ROI's IN-SYNCH® Integration Solution
Migali is an internationally recognized commercial refrigeration manufacturer and distributes its products worldwide through a channel of Authorized Dealers. From a humble start in a rented garage in South Philly just after WWII, Migali has grown from manufacturing kick-plates for doors, stainless worktops, and custom kitchen cabinetry, to standardized refrigeration equipment for the foodservice and hospitality industries.
In addition to manufacturing and distributing refrigerators, they also design and distribute bar and beverage refrigeration supplies such as horizontal bottle coolers and direct draw beer dispensers, alongside commercial kitchen, retail, and display refrigeration.

Manufacturing and distributing such a wide variety of products globally requires a diligent inventory and order management system, which Migali chose to complete with ROI's IN-SYNCH Sage 100 integration solution. In fact, according to Migali's Director of Business Development and Owner, Ernie Migali Jr., in the last year alone, their sales have grown over 50% which he says is thanks to "a flexible and automated structure for distribution, and great partners."
Challenges Come With Growth
The culture of the business, their products and technology, convenience, and transparency with customers are what really set Migali apart. Customers can expect to speak with a live person and receive the information they need right away when communicating with the Migali staff. It's this kind of customer-forward approach that led Migali to realize they had a problem. Because their base had become so big, they were receiving nonstop calls from their loyal and eager customers for inventory and price checks—all day, every day—to the point where they had to have an employee work full time answering these calls.
Not only did this inundate the Migali employees with constant calls, but it left little room for the staff to handle inquiries from clients needing other types of service.
Insert Sage 100, E-commerce, and Integration
Migali is a long-time Sage Software user. The company originally used Peachtree accounting software which was later known as Sage 50. With the vision to grow the business through e-commerce and automation of the ordering process, in 2018 the company engaged Inverse Paradox to build out a new e-commerce platform on Magento 2.0 (since purchased by Adobe and rebranded Adobe Commerce). Inverse Paradox is a Philadelphia-based team of e-commerce designers, developers, and professionals who work with wholesalers who have complex B2C and B2B e-commerce needs.
When the company recognized they were outgrowing the capabilities of Sage 50, Migali worked directly with Sage Software to map out their migration to Sage 100. With the most powerful ERP for manufacturers and wholesale distributors as well as a premier e-commerce platform, automation was not going to happen without integration. Sage Software called upon ROI to work with Inverse Paradox on the project.
By using ROI's IN-SYNCH solution with the Adobe Commerce connector, Migali's various systems automatically keep the inventory and order data up-to-date which was a great improvement to their customers' experience. An online portal was added so customers can easily access the information they need, such as inventory availability and prices—anytime, anywhere.
"Incorporating transparency and ease of doing business with us allows customers to get the information they're after, instantaneously," said Migali, "that's what we envisioned when we took on this initiative and both Inverse and ROI delivered!"
The Result? Time, Energy, and Profits Saved!
Now that customers can see in real time the information they once had to call to receive, Migali's team is now available to focus on assisting customers with more complex selling needs and improving processes instead of being bogged down with inventory stock status and price checks.

The customer portal also shows helpful and important information such as purchase order history, tracking, and invoices which lifts a heavy burden from Migali's accounts receivable department.
Everyone wins.
"Moving to Sage 100 combined with the integrated Adobe Commerce platform streamlined a good deal of Migali's order management process including unique features like associating orders with their dealers," said Neil Harner, Founder and CEO of Inverse Paradox. "Because Migali's checkout experience has a lot of customization to enhance the customer journey, ROI needed to account for additional order data not typically found in most e-commerce websites and seamlessly map that with Sage to assure the accurate fulfillment of orders. When selling oversized items like refrigerators, there's no room for error when fulfilling these items for customers."

So What's Next?
"Working with ROI was a smooth process all around. We remain very impressed with ROI's understanding of e-commerce, the customer experience, and comprehensive Sage 100 knowledge. This allowed for a wonderful collaboration and successfully addressing Migali's unique business requirements. To this day, with ROI, we continue to successfully deliver Sage 100 customers with complex, integrated ERP e-commerce," said Harner.
Migali has plans to continue the automation quest which will likely require more system integration by ROI. "Working with ROI and Inverse has been seamless. There was never a problem with getting a project done the way it needed to be done. The integration technology that ROI offers is very flexible and the more we can integrate, the more we can grow."