By Ruth Richter • July 06, 2022
Blog
|
Christmas In July: Start Planning for Your E-commerce Business' Season Now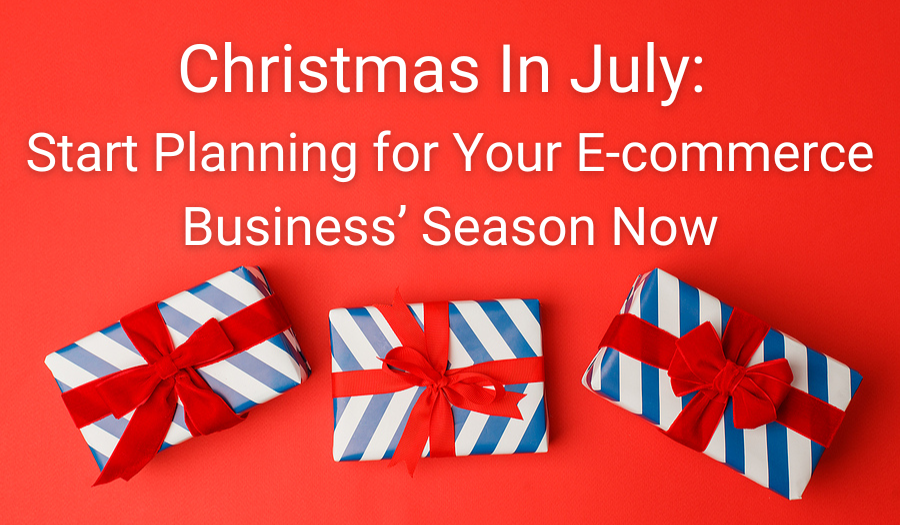 E-commerce has no doubt been a rapidly growing industry in the global retail market, and we've all seen the profound growth and change since the pandemic started back in 2020 when brick and mortar shopping became "non-essential" in many places. Like every industry, e-commerce continues to change as the world becomes more digitized and customers' expectations grow. In fact, it's estimated that by the end of this year, e-commerce will make up 20% of global retail sales (up from only 10% five years ago) and that e-commerce sites will own over 21% of the global retail market by 2024.

Although Christmas may seem like a long way off, here are four 2022 e-commerce trends to (re)consider to attract and accommodate potential (and returning) customers this coming holiday season:
Personalization
The pandemic made the digital market space much more competitive, which means that as an e-commerce business, you need to keep up with growing customer expectations. Personalization is a big factor in this; in fact, according to a Deloitte consumer review, more than 50% of consumers expressed interest in purchasing customized products and/or services and  22% of consumers are happy to share some data in return for a more personalized customer service and/or product. Social platforms and increasingly accessible digital devices are allowing consumers to better control and dictate how and what they consume.

But personalization is only as good as the data that backs it up. Although consumers are trending toward wanting a personalized shopping experience, data security and privacy remain an important focus. This means it's important to own your customer data and to acquire this data directly from the customer base.
Payment Options
According to ppro research, 42% of online buyers will stop their purchase if they can't use their favorite payment method and 58% say they will abandon the checkout process if it is too complicated. You can imagine the frustration for consumers when they go all the way through the process of shopping and deciding on a product, only to find out you don't have the right kind of payment options for them.

With all the current and future changes in payment processing, most online vendors are choosing to use a third-party payment processor. There are several popular payment processors that work with Sage 100 systems. ROI has many customers who use these third parties and IN-SYNCH for integrated credit card tokenization.

Offering multiple ways to pay and even allowing payment information to be saved on your site makes the purchasing process easier, more convenient, and faster for your customers.
Keep Sustainability in Mind
As the world around us changes, the public is becoming more aware and concerned with the state of our global environment. Earlier this year, a survey by the International Post Corporation showed that 44% of e-commerce consumers globally say they have changed their online shopping behaviors due to sustainability concerns. But as more brands address sustainability, it will be crucial for companies to show consumers just how and what they're doing to be more sustainable. It's important to be clear and transparent about the positive steps your company is making toward being more sustainable across all parts of your supply chain.
Headless E-commerce
Headless e-commerce can be beneficial to businesses because it gives the company more flexibility so that changes and customizations can be made easily and quickly without the constraints of a traditional platform. It gives developers more control over the look and feel of the customer experience, so there's more room for customization and personalization (which is crucial as we mentioned above!).
We are not certain whether we're out of the woods with the COVID-19 pandemic from a shopping standpoint and also economically. From the shopping behavior and purchasing trends of your customer base to webstore updates and inventory information, IN-SYNCH® Sage 100 integration by ROI helps to keep data flowing between systems, giving full insight into e-commerce business so the holiday seasonal business runs smoothly for both the business and consumers. Talk to one of our integration specialists today!