By Ruth Richter • January 13, 2021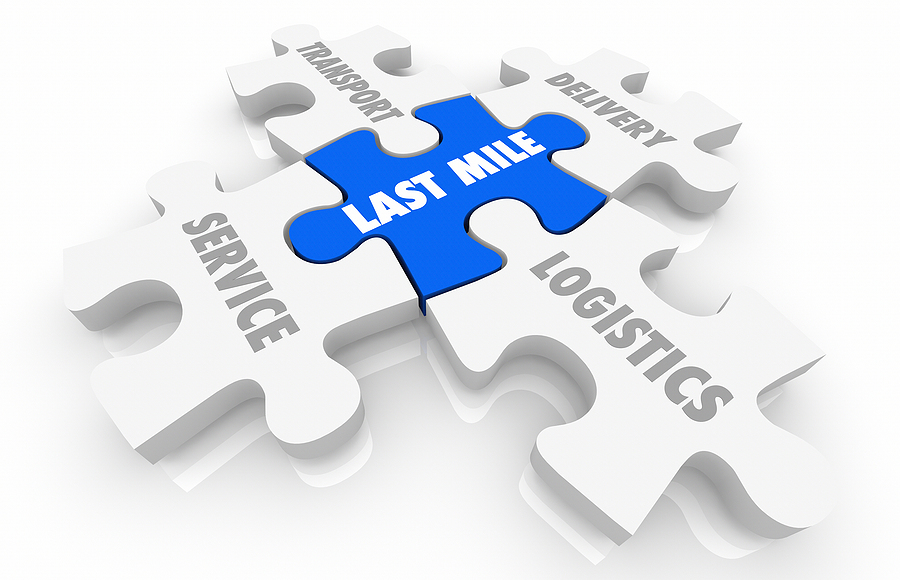 Similar to how it feels like the last hour of a cross-country drive is the longest, the shortest and quickest portion of the logistics process—the last mile—is the most crucial. The delivery endpoint for most retailers used to be the brick and mortar store. Customers would come in to one local location and purchase items physically.
Now that "last mile" is replaced by a delivery service as e-commerce, which was already growing in popularity through the end of 2019, took a sharp rise in 2020. That last mile has never been more complicated: Rather than customers coming to a single destination for goods, the goods must be delivered to multiple customers in different locations.
That's where aptly-named "last mile logistics" comes into play.
The Critical Last Mile
With the rise in popularity of Amazon Prime, fast shipping is no longer a luxury addition to online shopping, but an expectation. Speedy shipping has become a priority for all e-commerce businesses. This has led to the development of new technologies and supply chain fulfillment models that increase package volume, expedite deliveries, and improve the customer experience, all on top of attempting to cut costs. These new models include last mile logistics, the movement of goods from a transportation hub to the final delivery destination, which is typically a residence or business.
The goal of last mile logistics is to deliver items to the consumer as fast as possible. While a critically important part of the supply chain, last mile logistics doesn't just impact delivery. It can also have an effect on customer service. For larger delivery items—think appliances, furniture, or exercise equipment—some last mile carriers may also offer assembly options. Regardless, parcels must be delivered quickly and correctly, with customers having speed and visibility at every stage of their order's journey.
Finding the Right Last Mile Logistics Partner
Customers are demanding more and more of e-commerce merchants, which means that merchants in turn have some pretty high expectations and demands of their last mile logistics. Finding the right partner is vital to success.
Some third party logistics providers (3PLs) are adding last mile delivery to their service offerings, while other last mile logistics providers focus solely on that final leg of the journey. For those considering last mile logistics, there are some important delivery challenges you need to be sure your provider is addressing to your satisfaction.
Cost: This is the biggest challenge of last mile delivery due to the undertaking involved to get a package to the recipient. An inefficient last mile delivery system will drive up cost.
Efficiency: The sheer volume of packages delivered over the last 12 months became easily overwhelming to carriers who were unprepared for the sharp increase. A good last mile logistics partner will have a sizable fleet of delivery vehicles and trained personnel who can scale to the needs of your deliveries.
Real-Time Tracking: No longer is it acceptable to simply provide a customer with an estimated delivery date. Buyers want to see where their package is along every step of its journey, and see updates—good or bad—in real time. End customers expect this service, so your last mile logistics provider had best include it.
Friction: Despite best efforts and planning, there are still occasionally bumps along the way to getting a package delivered, no matter what mile it's on. Find a partner who is utilizing technology—from robots to integrated software—to continually streamline service and reduce or eliminate errors.
Visibility is Key
A key part of a successful last mile logistics relationship is visibility, and the key to visibility lies in asset and shipping tracking, as well as integrated systems that can handle increased levels of service and frequency as e-commerce continues to grow. Automated asset tracking can alert both shippers and consumers of a package's progress, improving visibility from end to end and reducing risk.
Integrating systems to promote visibility doesn't have to be difficult. With a solution such as IN-SYNCH® Sage 100 integration by ROI, e-commerce providers have the availability to connect as many systems as they can with real-time, bidirectional synchronization. Connect e-commerce platforms, ERPs, warehouse management systems, CRM solutions, third-party shopping carts such as Amazon or eBay, accounting software, and more. IN-SYNCH connections aren't simply limited to your business, either: You can connect to 3PL or last mile logistics company system as well. The integration options are wide open with IN-SYNCH.
IN-SYNCH Integration Optimizes the Last Mile
Last mile logistics solutions aren't a one-size-fits-all for every e-commerce retailer. But for those who will benefit from it, IN-SYNCH integration can be the one-stop shop to keeping systems talking across providers to ensure packages are delivered on time as expected to happy customers.
See how IN-SYNCH can integrate your 3PL and last mile logistics partners for increased visibility. Talk to an integrations expert now.