By Ruth Richter • January 27, 2023
Blog
|
The Keys to More Sage 100 eCommerce Conversion Rates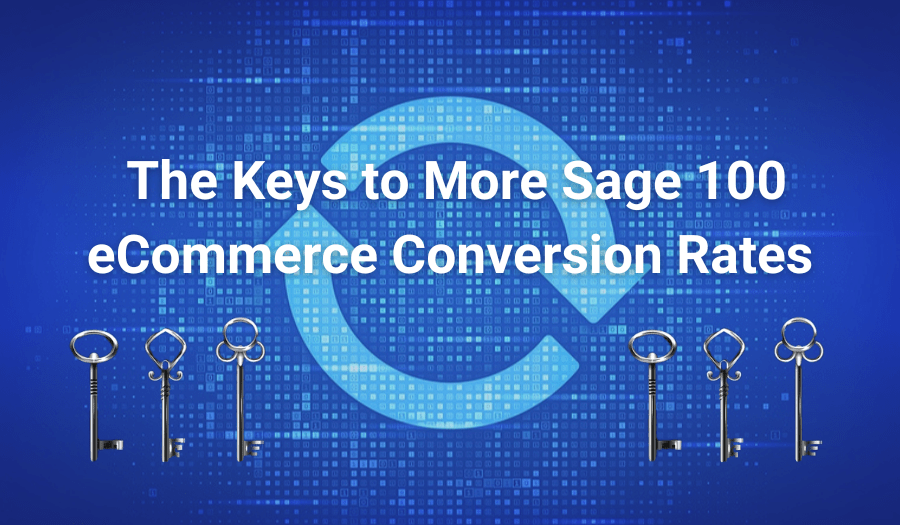 One of, if not the, most important components for online retailers to watch are conversion rates. In an ideal world, a customer would visit an online merchant's site, find the product they are looking for, add it to their cart, and complete the sale. Unfortunately, for the business owner, it's just not that simple. So, what can digital sellers do to increase their conversion rates? Let's look at some strategies that can help business owners find the keys to more eCommerce conversions and ultimately, higher conversion rates. Finally, we will share ways ROI can help improve Sage 100 eCommerce conversion rates.
What Are Conversion Rates?
In eCommerce terms, a "conversion" is an action the consumer takes; this can be anything from clicking certain links to making purchases. Most business owners track multiple conversions to track their consumers' behavior and ultimately increase their conversion rates based on these metrics they are tracking. A conversion rate is "the number of conversions divided by the total number of visitors." For instance, if in one month an online seller has had 25 completed purchases and 300 visitors, the conversion rate would be 25 divided by 300, or .08%. Given this information, it would make sense that digital sellers should strive to increase their conversion rates.
How Can eCommerce Businesses Increase Conversion Rates?
There are many tips, tricks, and tools available to online retailers to help boost conversion rates and it's important to prioritize them because customers are expecting more and more from their digital shopping experiences. What worked even a few years ago, today might not be relevant.

Using better technology is a must. For online sellers who have been in eCommerce for a while, they may find that their original platform is no longer designed to handle increasing traffic volumes. Sites that load too slowly risk a poor customer experience and lost sales. In a recent blog, we discussed the importance of evaluating your current eCommerce platform and understanding which improvements can be made to remain competitive leveraging the tools and support available. Digital upgrades and innovations are necessary to keep the eCommerce platform relevant and ensure more conversions.

Some of the features and capabilities needed for successful conversions include:

– Site Search: Controllable search results for a better user experience
– Personalization: Optimized, dynamic content based on different personas
– Mobile: Ability to improve and control the experience for mobile customers
– Social: Ultimate shareability and social commerce capabilities
– Tags: Site tagging that leads to better digital marketing, search functionality, and SEO

Other actions online retailers should consider are simple changes such as using high-quality media on product pages, providing coupon codes, considering live chat software, and so much more. Most of us shop online at least from time to time, so a good rule of thumb is to just consider what your expectations are as a consumer and ensure that your business is offering the same to your customers.
Improving Sage 100 eCommerce Conversion Rates
ROI specializes in Sage 100 integration, including eCommerce integration. We can integrate information between eCommerce sites, ERP solutions, and other platforms as needed. Our Sage 100 integration solution, IN-SYNCH, is purpose-built to connect Sage 100 ERPs, eCommerce platforms, and more for safe, secure, fast information integration. Most eCommerce platforms provide built-in tools and analytics to help online businesses understand and track their conversion rates and help the retailers grow. Having experience with integrating over 20 different popular shopping carts, marketplaces, and omni-channels, IN-SYNCH gives you the convenience of selecting the platform with the budget and features that suit your business and integrating it quickly and efficiently.
So, what is one of the most important keys to increasing Sage 100 eCommerce conversion rates? Having all the business' systems, platforms, databases, shopping carts, etc. integrated. This ensures all the data being evaluated, conversions being tracked, and customer behavior being analyzed is happening in real-time, in one place. Contact one of our integration experts today!