By Ruth Richter • August 11, 2022
Blog
|
Keeping Up with E-commerce Innovation: Are Your Platforms Up to Par?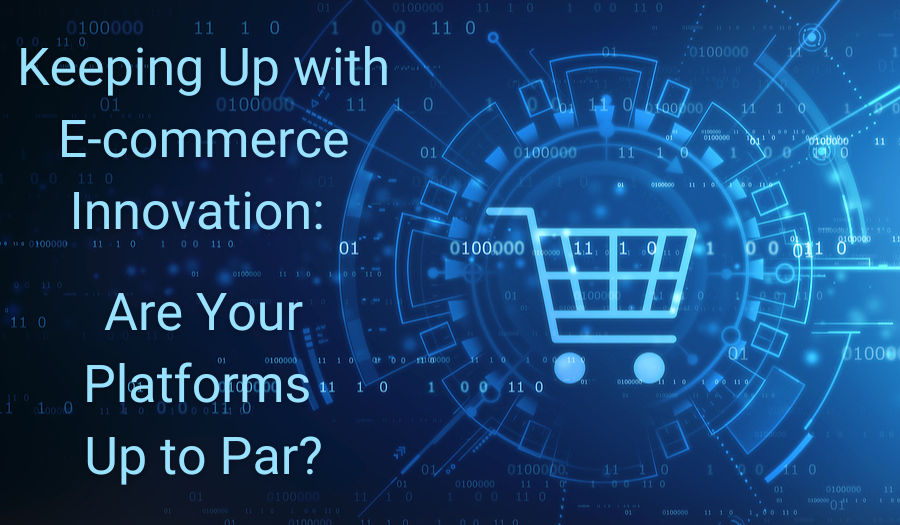 E-commerce is evolving and changing rapidly. Whether you've been an online retailer for some time or are new to the digital market, advancements in the industry are happening quickly and sometimes dramatically every day. In fact, according to research, the e-commerce market is expected to grow by nearly $11 trillion by 2025. 11 trillion!
To make sure digital marketing efforts are harnessing this growth, it's important to regularly evaluate and be sure the business's e-commerce platform is incorporating and leveraging the tools and support available to remain competitive. A recent Forrester Wave report identified what organizations should consider when choosing an e-commerce platform:
Does your e-commerce solution provide the delivery model and functionality you require to satisfy your customers?
Is the solution built on modern, cloud-native architecture?
Does the system provide efficient workflows and easy-to-use administrative functions?
Let's look at these important factors for your team to consider as they evaluate the e-commerce business platform.
Is the e-commerce platform functionality keeping up?

Providing unique and easy-to-use shopping experiences for your customers is crucial to remain competitive in the e-commerce landscape. This means choosing a platform which allows features that provide a modern easy-to-use, start to finish experience.

Take for example, BigCommerce. Recently, they announced their "Bolt One-Click Checkout" which provides checkout simplifications such as remembering guest passwords, easy configurations, over 160 pre-built integrations, and more.
Does your e-commerce platform use the latest modern architecture?
Solutions that are based on current, cloud-native architecture enable seamless upgrades. By using APIs for connections, your system can integrate with other business systems. API-first systems also make it easier to customize your website without affecting your connections.
Could the digital shopping experience be enhanced without a replatform?
More and more, consumers are expecting simplicity and power in their online shopping experience, and your business should be expecting the same from its e-commerce platform's available options.
To the delight of our customers using Shopify, in June 2022, Shopify released a new B2B offering that allows them to take their e-commerce platform to the next level. Shopify's goal? To make it easier for merchants to sell to more customers without expensive third-party solutions or complex workarounds.
Essentially, Shopify's B2B upgrade allows merchant owners to now offer B2B and DTC stores using the same platform and best of all, Shopify APIs are available to automatically integrate essential business data, like customers, products, pricing, and inventory, without the need for manual data entry.
Digital upgrades and innovations are necessary to keep the e-commerce platform relevant and growing. Increasingly, our customers are choosing platforms which are updated automatically and seamlessly. This means the e-commerce business can rely on the platform experts to improve and roll out innovative, best-practice solutions for ordering, catalog, shipping, marketing, and checkout, relieving the marketing team from the constant mode of ensuring the solution is up to date and researching replatforming. Modern, strong-performing digital platforms allow the marketing team to focus on branding, merchandising, and inventing more ways to grow the business.
How does your platform rank?
Who does Forrester rank as strong performers? In the B2C marketplace, BigCommerce, Adobe Commerce (Magento), and Shopify Plus are rated highly for their functionality, user interfaces, reporting and support. According to the report:
"BigCommerce provides native capabilities for low-complexity business models and flexible APIs for more complex business models."
"Adobe Commerce has strengths in front-end management, search and merchandising, and digital products and subscriptions."
Shopify Plus is known for its "exceptional ease of use for nontechnical practitioners." It has "predictable and transparent pricing." "Shopify is a best fit for digital businesses that need a quick, light, and extremely usable solution."

When it is time to re-platform, ROI can help. We regularly work with businesses who are making the move to a new e-commerce platform. Because IN-SYNCH can integrate Sage 100 with so many third-party solutions, we can help make the transition as smooth as possible. Contact us if you have a new project in mind.