By Ruth Richter • February 26, 2020
Blog
|
Does Your Ecommerce Site Meet WCAG Accessibility Standards?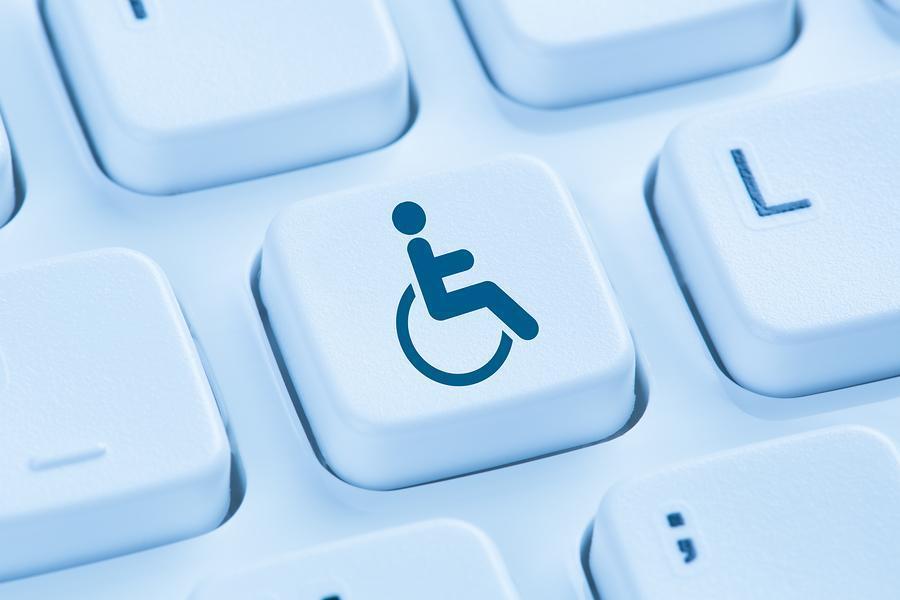 Typically, when we think of making things accessible to individuals with disabilities, ramps, Braille signage, and sign language interpreters might come to mind, but that also extends to digital and what users of all abilities can access on the internet.
As of early 2019, Hootsuite estimated that there were 4.38 billion internet users around the world, approximately 57 percent of the world's population. In America alone, 56.7 million have some form of disability that could make traditional internet usage a challenge. That's where the Web Content Accessibility Guidelines—or WCAG—come in.
WCAG in Basic Terms
In simple terms, the WCAG is a step-by-step set of technical requirements that explain how to make a website, app, or other digital property accessible to those with various kinds of disabilities. These guidelines can help you identify accessibility barriers. More importantly, federal, state, and/or local laws require that businesses be accessible in all forms to individuals with disabilities, which means complying with WCAG.
These guidelines make it easier for developers and business owners to find barriers that might not be noticeable based on how they use the internet. Unless these barriers affect you directly, you likely won't know they exist.
Removing these barriers can actually make a website experience better for every user, because they will lead to improved structure and usability.
Examples of WCAG Requirements
WCAG documentation is exhaustive, and it will take time to look through to ensure your business' website—and more importantly, your ecommerce site—complies. Here are some examples of what you can expect:
Any video that has audio content must have captions so that those who are deaf or hard of hearing can understand everything from dialogue to sound effects.
Audio content must include a written transcript. This is a good example of a required enhancement that will also benefit those who are hearing, but are not in a position to listen to audio.
Images require descriptive alternative text (alt-text) to provide an appropriate description of the image for those who are blind. This includes all images that are structural or navigational in purpose.
Text must be realizable without impacting how the page displays when those with vision disabilities magnify content for easier readability.
Forms must exist without a time limit so that anyone can fill out a form and not be excluded.
Navigation, headers, footers, sidebars, and other components that exist across multiple pages within your website must always appear in the same place so your users can know how to find them regardless of where on your site they are.
Your website must be navigable without a mouse: Users should be able to progress through your site using the "Tab" key
Why Your Site Needs to Be Accessible
This might seem like a lot of work to add into a new website or ecommerce store. Achieving WCAG compliance may seem like a substantial undertaking, but there are three major reasons you need to make sure your site conforms to WCAG guidelines.
First, it's the law. ADA, Section 508 of the Rehabilitation Act, Accessibility for Ontarians with Disabilities Act (AODA), and human rights codes are all very clear that people with disabilities must have equal access to any services provided by businesses, governments, and other organizations. It is illegal to discriminate, and that includes your website. In 2016 alone, more than 240 lawsuits were filed against websites for lack of accessibility.
Secondly, it's a right for any person with disabilities. The United Nation's Convention on the Rights of Persons with Disabilities supports the obligation to "promote access for persons with disabilities to new information and communications technologies and systems, including the internet." One hundred sixty-one countries signed off on this. Your business should, too.
Thirdly—but by no means the last or final reason—it's actually good for your business. People with disabilities have billions of dollars in purchasing power. If your ecommerce site isn't accessible for their needs, they'll take their business elsewhere.
Chances are, if you're having your site built by a web expert, they're already aware of these guidelines and incorporating them into your site as it's built. Following the guidelines takes the guesswork out of your accessibility and ensures you're meeting—or even exceeding—all legal requirements.
While you may consider having an accessibility consultant run a review of your site, some easy things you can set up from the start include clear product images and concise product descriptions, including size, weight, texture, or any other detail that might help a person with disabilities better interpret details about your products.
ROI – Leading Sage 100cloud Integrations
ROI is a Sage Gold Developer and a leader in integrating Sage 100 with third party systems.
IN-SYNCH Sage 100 integration is a flexible tool that can be used for multiple types of integration needs, from basic to complex. Whether you're constantly updating product images and descriptions, or offering personalized web experience options based on a login that could adjust text size or other features based on user preferences, IN-SYNCH keeps your information flowing between systems in real-time so that no user, regardless of accessibility, has difficulties navigating your site and purchasing from your ecommerce store.
Contact one of our integration experts today.