By Ruth Richter • August 22, 2023
Blog
|
Use IN-SYNCH® and These Payment Processors for a Seamless Checkout Experience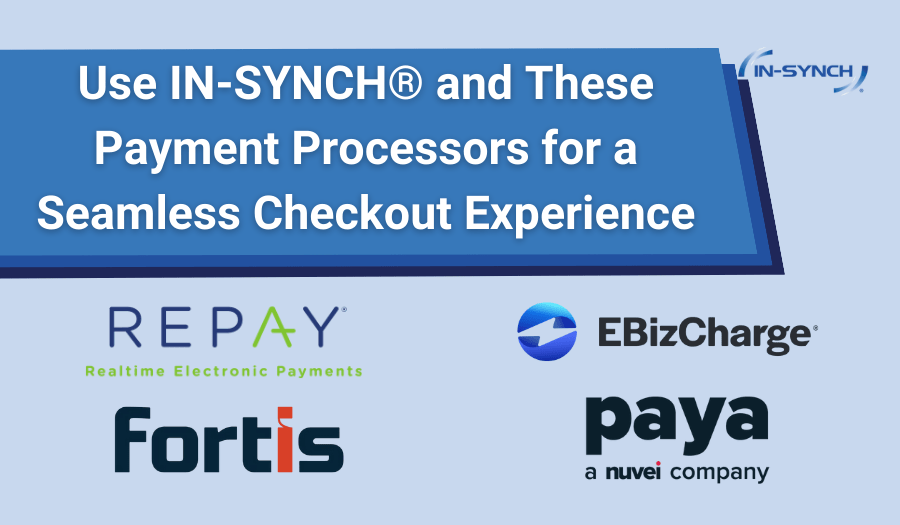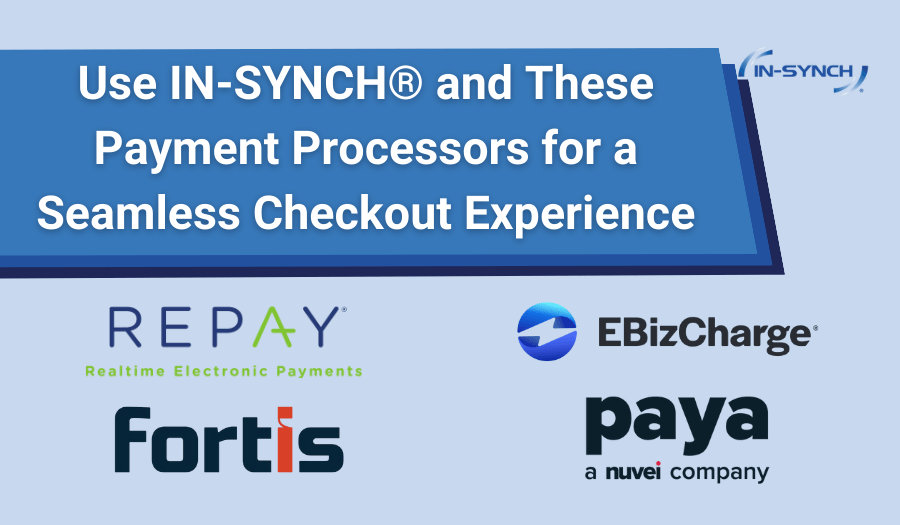 A smooth shopping experience is essential to any e-commerce site. Online customers will often abandon their cart and not purchase anything if the checkout process is difficult or if their preferred method of payment is not offered. Being able to cancel an order or a line item on the order makes the experience that much better! Using compatible new payment methods is an additional challenge for companies using Sage 100 and selling their products online.
A sure way to provide that top notch experience we've described is with integrated payment processing. We've found the best solutions will include fully optimized and automated payment functions such as on-demand tokenization, simple routing and authorization workflows, and front-end features that enhance the customer experience.
Benefits of Integrated Payment Processing
Because payment types and options are changing so rapidly, many businesses choose to integrate third-party payment processing software into their existing ERP and/or e-commerce site. Integrated processing of credit cards and other forms of payment allow the transaction to be finalized in Sage 100 ERP. This allows for easily changing the order to add freight or remove a backordered item. Such a system can also store credit card numbers securely if the customer selects that option. Many solutions also include powerful reporting features, giving insight into a company's cash flow.
4 Stellar Payment Processors for Sage 100
The following are the four payment processors (listed in alphabetic order) that are compatible with Sage 100:
EBizCharge: EBizCharge gives customers access to a self-service payment portal, allowing them to easily find and pay invoices. Customers can securely save their credit cards in the system if they desire. EBizCharge connects to EMV devices and even has a mobile app. It's a native integration, so no third-party login is necessary to use it. All incoming data is immediately synched to Sage 100.
Fortis: The Fortis Sage 100 integration provides real-time cash-flow visibility, simplifies workflows, and speeds up remit times. Fortis accepts credit/debit, cloud EMV, and ACH and has automatic Level 2 and 3 data enrichment which allows for qualification of lower processing rates. It includes customizable reporting to help monitor financial health. Fortis is a Sage Recommended Solution and a Plus Tier Sage Tech Partner.
Paya: Paya is a Sage preferred partner for integrated payments in the US. It's the solution we have been working with the longest, and more of our customers are using Paya than any other payment solution, which says a lot! Paya accepts checks, credit/debit, and ACH. It provides accurate cash forecasts as well as real-time reports, allowing for complete visibility into a company's cash flow. All payments made through Paya are auto populated into AR cash receipts.
REPAY: With REPAY, a company can gain access to level 3 credit card processing integration that will lower transaction costs and streamline payments. Customers' credit card numbers are stored securely, and tokenized credit card data simplifies PCI compliance. REPAY also provides daily auto batch reporting as well as secure 24/7 online transaction reporting. It can handle multiple currencies as well as ACH payments. REPAY includes no-cost compliance assurance and does not charge installation, set-up, or maintenance fees.
Integrating Credit Card Tokenization with IN-SYNCH
After a company chooses a solution capable of credit card tokenization, our integration solution, IN-SYNCH, can provide automated integration of that tokenization between all software systems, ensuring a secure and user-friendly process. IN-SYNCH also allows real-time payment processing and authorization, aids in PCI compliance, and improves the customer's checkout experience.
Ready to Get Started?
ROI can use IN-SYNCH to integrate Sage 100 ERP with any website, e-commerce platform, shopping cart, or marketplace. If you're ready to integrate your company's payment processing solution with Sage 100, contact the experts at ROI today.