By Ruth Richter • January 03, 2023
Blog
|
Tired of Uncertainty? Take Control with Digital Transformation and Automation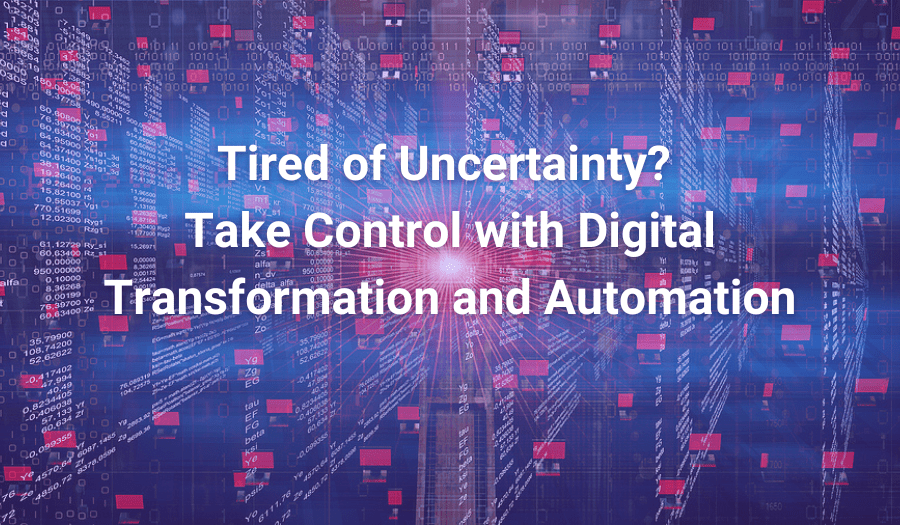 For business owners, the resounding theme for the past few years has been "uncertainty." This word pops up everywhere, whether in reference to consumer behavior, the pandemic, supply chain disruptions, inflation, technology advancements, and so much more— "these uncertain times" do not seem to be finding certainty anytime soon. So, what's a business owner to do? Where can certainty be found so that proper planning, budgeting, inventories, and every other part of the business can run as smoothly as possible? Or, at the very least, where both companies and consumers alike can find some confidence and ease in their day-to-day operations? The answer is digital transformation and automation.
What is Digital Transformation?
Simply put, digital transformation is adopting the use of digital technology to digitize and automate non-digital products, services, operations, and more to turn a disconnected business into a connected one—and one that statistically sees higher revenue growth. In fact, according to a 2020 Deloitte study, "Companies that have higher digital maturity reported 45% revenue growth compared to 15% for lower maturity companies."
Digital transformation is about empowering the people in an organization to work smarter while also enabling the business to effectively utilize previously inaccessible opportunities. It's turning data that's uncertain, due to multiple systems, into data that's streamlined and certain.
One of the easiest ways to do this is to have a company-wide ERP platform such as Sage 100—or, if the company already has multiple ERPs, CRMs, or other systems in place, take the next step and integrate these systems into a single powerful business solution. Adopting an ERP and integrating it with the business' other systems will help break down those disparate data silos that keep the business from being fully connected.
Imagine the improved customer service when an integrated ERP and CRM portal enables the company's service department to answer questions instantly, or the benefit of field staff having access to accurate and up-to-date sales data in real time. This is the power of digital transformation—to ensure an extensive and all-encompassing view of the company's data for everyone in the company who needs it.
A Powerful Partner Supporting Digital Transformation
Sage 100 integration offers many competitive advantages and IN-SYNCH® from ROI is a Sage 100-installed application that provides real-time data synchronization with any third-party system. It is a flexible tool that can be used for multiple types of integration needs—from just the basics to complex, customized systems. Plus, it provides real-time synchronization, meaning the company's Sage 100 ERP and third-party system—whether that's an e-commerce shopping cart, CRM database, or warehouse management system—are provided with automatic, real-time changes and updates as they occur.
Digital Transformation and Automation: A Recipe for Certainty
When all systems are integrated, it allows every aspect of the business to be controlled from a single application. This keeps data flowing seamlessly through the company, increasing efficiency. Teams and departments can view necessary information from across the business without the need to interfere with anyone else's work, ensuring every department has a holistic view of the business. Integrated ERP solutions will link multiple modules, gathering data automatically from internal and external sources to centralize information. With IN-SYNCH's real-time Sage 100 data synchronization capabilities, users and company personnel can finally, finally move away from perpetual uncertainty to being certain that any data—intercompany or otherwise—is integrated quickly, securely, and accurately with very little manual input.
Time to Take Control
At ROI, we understand that every organization is different regarding its integration and automation needs. We've spent the past 25 years creating custom integrations, connections, and automations for just about every scenario imaginable. If your business is ready to start feeling a little less "uncertain," then contact us and let's talk about your digital transformation and automation goals and how we can help.