By Ruth Richter • March 08, 2023
Blog
|
The IN-SYNCH® Connector API: Use Cases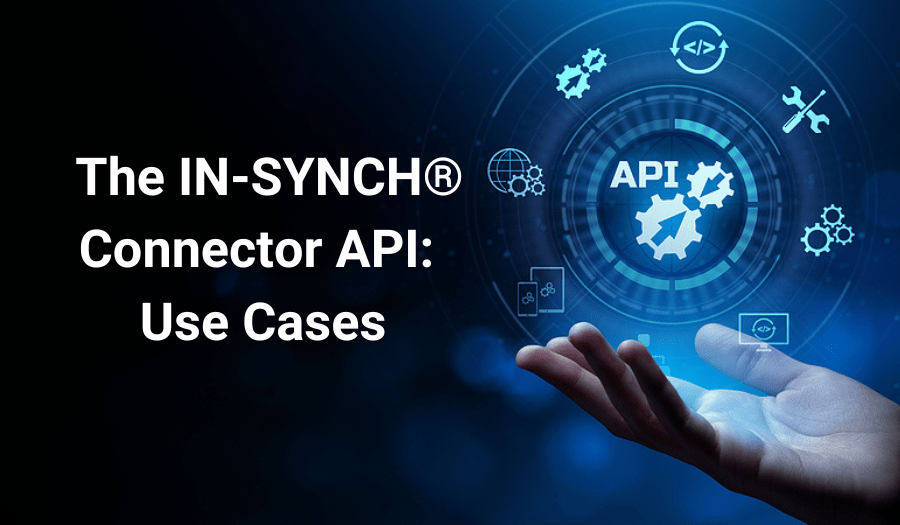 In our last blog, Why Use API for Integration, we took a look at when and why a business using Sage 100 and looking to integrate their data with other systems would select our Connector API solution for their project. The main benefit of putting the writing of the connector for the third-party solution in the client's developer team's hands is to allow greater control over the integration project timeline and, longer term, the integration solution support.

There are many use cases where ROI's IN-SYNCH® Connector API is being selected by businesses using Sage 100. The solution allows our client's developers to create integrations with Sage 100 using industry standard API protocols. Let's look at several of these scenarios that we've implemented.
Custom Solution Integration with IN-SYNCH Connector API
Businesses using Sage 100 in addition to industry-specific software will benefit greatly with automating the dataflow. Clients with access to their own developers can choose to build the API connection solution. Recently the ROI IN-SYNCH Connector API was used to connect Sage 100 with Optimizely, a digital experience platform. For this client, their Optimizely development team were able to use the solution to post endpoints to perform the integration to send orders and customers into Sage 100. It was also used to get endpoints to bring order and invoice history, item quantities, item pricing, and customers to Optimizely. The team that supports Optimizely now can support the integration and make programmatic changes as needed.
Very Complex or Highly Customizable Project with IN-SYNCH Connector API
For integration projects with very complex solutions, where a clear understanding of the third-party solution's capabilities and client's configuration is required, the IN-SYNCH Connector API is the best option. For example, Salesforce.com is a very robust solution and clients are utilizing this system in a variety of, and often complex, ways. The Salesforce expert on the project has a clear understanding how to utilize the data stored in Sage 100 within the platform and is best qualified to perform the automation. For sending data to Sage 100, the IN-SYNCH application is utilized and can perform all the automations after receiving the data from Salesforce. 
Hybrid Projects with IN-SYNCH Connector API
We have a few cases where ROI will work on hybrid projects. The Sage client's developer will create the solution. With an integration with Alliance, the client's developers are utilizing the ROI Connector API to post and create sales orders in Sage 100. ROI's seasoned developer team utilizes the Alliance API to create the balance of the integration to send items, shipment data, and create new and update existing customers in Alliance. This application of resources provides our clients with the most economical, yet customizable solution.
When a solution is robust and requires a lot of understanding of how the data flows as well as the structure, and/or the client has a developer team that needs access to the Sage 100 data, the Connector API is a great tool to have in place.
For more on ROI clients using the Connector API, visit our website here.
Where "DIY" Doesn't Make Sense
Although we have a fair number of developer-assisted projects and IN-SYNCH Connector API projects, most clients do not have access to developers. In these cases, our clients rely on the ROI team to perform the full, turnkey project where we utilize the platform's API to connect and share bi-directional data such as orders, shipment data, inventory quantities, and pricing with Sage 100​.
Another instance where a "DIY" approach doesn't make sense is for projects that ROI has performed often. In these cases, our ROI development team has greater familiarity with the abilities (and quirks) of the third-party API. With a large variety of projects completed and in use, we can provide the integration much more efficiently and cost effectively than a developer performing the connection for the first time.  Some of the top eCommerce platforms ROI works with include (but are not limited to):
BigCommerce
WooCommerce
Shopify
Adobe Commerce (formerly Magento)

ROI has become one of the market leaders in Sage 100 integrations by offering a variety of options. Our solution is designed around your needs—not a "one solution fits all." Businesses using Sage 100 don't need to settle for a compromise when ROI can deliver the solution that's right. Contact us today to see how our IN-SYNCH solution can help alleviate some of the manual tasks your company is facing.