By Ruth Richter • October 24, 2023
BigCommerce
|
Take BigCommerce B2B Edition a Step Further with IN-SYNCH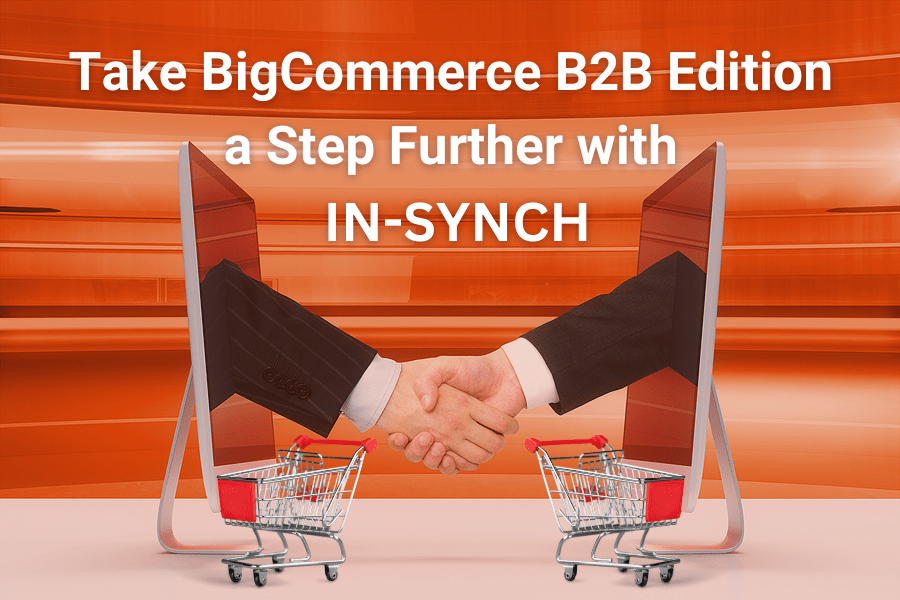 Over the last few years, B2B customers have come to expect just as smooth of an online shopping experience as B2C customers. Employees who work for a B2B company are likely well aware of the need to provide the company's customers with a smooth, simple e-commerce experience. However, B2B companies face unique challenges: complicated products, variable pricing models, and complex ordering needs.
The best way to meet these challenges is through a powerful e-commerce platform—integrated with an ERP. Let's look at the benefits of one such pairing: BigCommerce B2B, integrated with a company's Sage 100 ERP through IN-SYNCH.
Features of the BigCommerce B2B Edition
BigCommerce B2B Edition provides a customizable, intuitive e-commerce platform that is built for your company's unique needs. Here are some of the many features your company can take advantage of with BigCommerce B2B Edition:
Personalized customer experience: Give customers access to a mobile-friendly customized buyer portal that includes easy access to order history and personalized shopping lists for the entire company.
Payment and invoice visibility: Enable various payment methods and gain total visibility into and control over the invoicing process.
Strict security measures: Manage permissions for both the company's own employees and the customer's employees. Set custom buyer tiers and create unique role-based access profiles to maintain the security of your company's software.
Easy quotes and discounts: Easily offer quotes, discounts, and personalized pricing options to attract and retain customers.
Robust features to handle complexity: Efficiently manage multiple storefronts, special item attributes, custom inputs, and any software integrations your company may need.
Native integrations: This edition of BigCommerce includes several native integrations to improve the product even further, including an integration with ShipperHQ to build customized shipping rates.
BigCommerce B2B Edition can provide your business with an e-commerce portal powerful enough to save time and money, yet also streamlined and personalized enough to keep customers satisfied. It can handle all the complexities of the B2B world while maintaining the B2C ideal of a flawless customer experience.
Benefits of Integrating with IN-SYNCH
However, while the BigCommerce B2B Edition can accomplish a lot on its own, your company won't maximize its ROI unless it has integrated this software with its ERP. IN-SYNCH provides real-time, seamless integration between your company's Sage 100 ERP and any e-commerce platform.
There are many benefits to integrating an ERP and the BigCommerce B2B Edition through IN-SYNCH:
Synch customers and contacts: IN-SYNCH allows for bi-directional synching of contacts and customers between Sage 100 and BigCommerce.
Import catalogs and complex pricing: If your company's customers fall into different pricing tiers based on volume of orders or anything else, maintaining the correct pricing for complex items can be a nightmare. Thankfully, with IN-SYNCH, employees need only update information in Sage 100. Employees can even automatically set customers' pricing tiers and item prices, and IN-SYNCH will adjust the pricing in BigCommerce accordingly.
Gather complete order histories: Many B2B businesses sell products on multiple marketplaces or third-party websites, as well as direct via phone, fax, email. With IN-SYNCH, employees can collect a complete purchase history for customers, including any sales that did not originate from the BigCommerce site.
IN-SYNCH is built to increase your company's efficiency and productivity by automating processes, creating real-time data flow, and providing visibility into every part of the integration.
Ready to Get Started?
Is your company interested in partnering with ROI to synch its BigCommerce B2B Edition and Sage 100 ERP? We're passionate about our software and are ready to help implement, integrate, and customize it to best fit your business's goals and needs. If your company is ready to get started or wants to learn more about what we offer, contact us today.