By Ruth Richter • December 01, 2022
Blog
|
ROI Celebrates Its 25th Anniversary!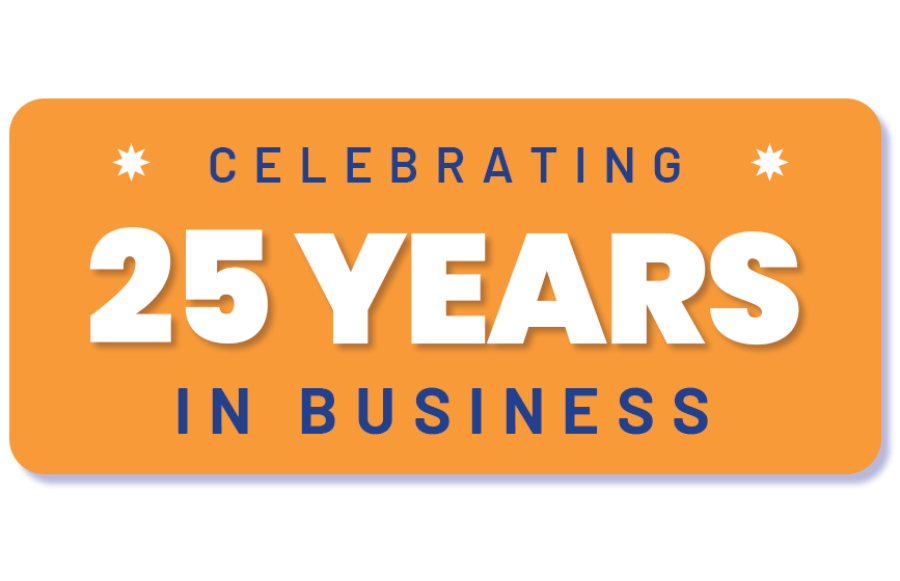 By far, the development of our IN-SYNCH® technology to connect Sage 100 to third-party systems has been our biggest accomplishment. We never dreamed this would be a solution we would still be implementing 25 years later! Of course, IN-SYNCH solutions have evolved but the years have flown by so quickly. There are definite big step moments, such as taking the step from using contracted resources to employing a team and developing the 2022 launched IN-SYNCH Connector API for Sage 100. And we have great memories of the annual Sage conferences and joining 90Minds! Most of all, building relationships with Sage partners, relieving our client's burdens of manual processes and seeing their businesses take off, and fostering the ROI "dream team" has brought our business a great deal of pride.
To demark the 25th, we've rolled out our newly updated website and, with this blog, we wanted to share with our community a walk down memory lane …
Fate and the Dot.com Era
ROI founders, Bob and Ruth, originally met through State of The Art (SOTA), the original developers of MAS 90 (now Sage 100) in 1994 at the Competitive Edge conference in New York City where the new windows version of MAS 90 was announced. Bob, a MAS 90 programmer with Micro Business Accounting Software (MBC) was attending and Ruth was the National Sales Manager for SOTA and a primary speaker at the conference.  Fast forward a few years, following an August 1997 wedding, ROI was started on December 1st. 
ROI was established in the middle of the "dot.com" era, when companies were adopting the internet by launching websites.  Given his EDI background, when Bob came upon a project for integration between an MS-SQL e-commerce website and MAS 90 3.71, IN-SYNCH (originally named E-commerce Master) was born. As a long-time Sage Gold Level Tech Partner, IN-SYNCH was certified for the Sage Marketplace.
1,000s of Implementations and Counting
Throughout these 25 years, ROI has performed more than 1,000 implementations of the IN-SYNCH integration solution, including website shopping carts, CRM, warehouse management, and data warehousing. ROI attributes their success to the amazing and loyal Sage 100 partner channel members whom they work with as an extended technical team. Together with the partners, Sage 100 customers are enabled to get the most out of their ERP investment through integration with critical applications.
One of the most rewarding aspects of being an e-commerce software company is to witness Sage 100 customers start with a small, online presence and regularly improve, expand, and grow.  Take, for example, ROI client Goal Zero, who since 2009 has been a leader in innovation and design in the category of renewable power.  Initially, we performed an integration with their custom website, and then another when they launched a more powerful platform.  To date, we have performed ~25 business improvement and expansion projects for them and it's been very exciting and rewarding to be a part of their growth. This is the kind of long-term relationship the team at ROI strives for!
IN-SYNCH and Sage 100: A Match for the Ages
While other integration solutions have come on to the scene, ROI has managed to grow for 25 years. This is because the other vendors don't have in-depth Sage 100 knowledge and understanding of how to automate and integrate Sage 100 data, and/or they offer rigid solutions that are designed to be one fit for all. This means the business seeking solutions will have to give up a working business process to achieve automation—they must sacrifice bits of what makes their company unique. We work every day to deliver on our mission: To maximize our customer's accounting software investment through integration and customization. ROI can deliver the automation of established and working Sage 100 processes for our clients. Our clients should not settle for a compromise when ROI can deliver the solution they need.
A long-term Sage 100 Tech Partner, ROI was one of the first to become an affiliate member of 90Minds, a tight-knit partner community where our team has been honored to educate Sage 100 partners about integration solutions for the Sage 100 product line. ROI is an "Accredited Business" with the Better Business Bureau since 2009, with an A+ rating. It means that our pledge to our customers is to deliver our products, service, and support in accordance with BBB-accredited business standards.
While the 25 years have seemed to fly by in the blink of an eye, and the present keeps us quite captivated, the ROI management team is keeping our sights on the future.  In 2020 we began the development of the ROI Connector platform which was launched in late 2021. This has enabled the ROI team to perform integrations faster and to release a Sage 100 API connector for developers to perform their own integration. But more importantly, we have the technology to expand beyond the Sage 100 product line and enable ROI customers to move ERP platforms and keep the same level of automation they rely on today.
We are so grateful for all the people who have made the last 25 years of ROI, Inc. possible. Without support from staff, partners, family, and friends, we wouldn't be where we are today. As we look forward, ROI will continue to honor our mission, deliver to our clients, and work toward automating and simplifying the data-integration process for businesses who need it, no matter what challenges may arise.