By Ruth Richter • July 29, 2020
Blog
|
Retail is Not Dead: How E-Commerce Is Helping SMBs Survive the Downturn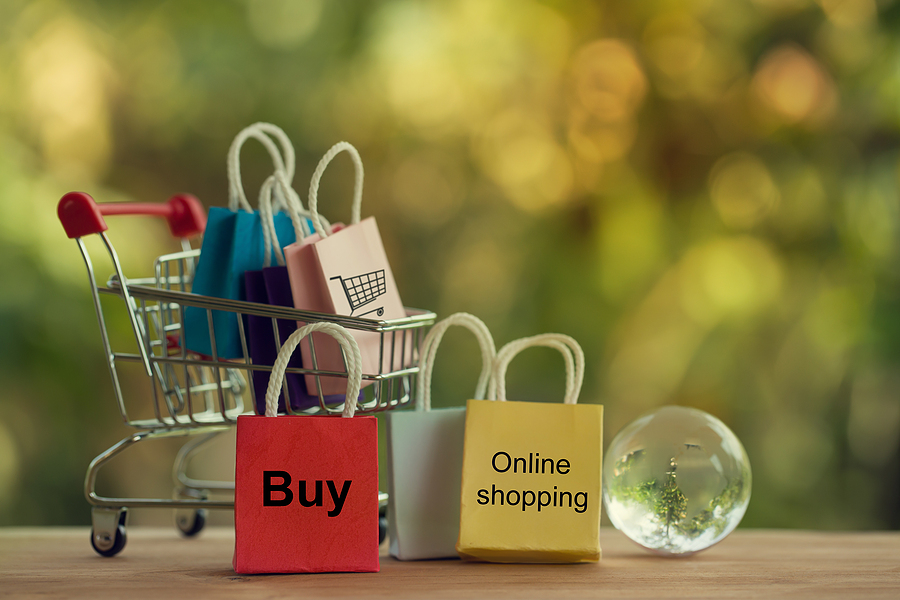 Back in February, experts projected US retail could expect a modest growth of about 2.8 percent this year. That prediction was, of course, before the coronavirus hit. Suddenly, retailers were faced with store closures, stay-at-home orders, and a significantly reduced demand for most non-essential goods.
The result? An expected 10.5 percent drop in total retail sales, and more crucially, a 14 percent drop in brick-and-mortar sales.
But it's not all bad news, especially for e-commerce retailers.
E-Commerce on the Rise
E-commerce was already a growing trend among businesses, but the pandemic has pushed it even more to the forefront. According to the US Ecommerce 2020 report, e-commerce is situated to actually grow in 2020 by 18 percent, driven by curbside pickup.
Growth hasn't only come through new activity, but new customers as well. First-time online buyers—specifically older, at-risk populations—have increased by 12.2 percent. Trusted and reliable retailers, such as Amazon and Walmart, will continue to attract the most consumers, and will grow at above-average rates.
The second quarter of 2020 saw extreme channel shifting from brick-and-mortar to curbside pickup and delivery. Experts predict that some of that will subside as 2020 continues; indeed, some stores have already started to reopen as lockdowns ease across the country. However, they agree that click-and-collect and curbside pickup will continue to be popular options for long-term e-commerce growth.
Build Resiliency
What does all this mean for SMB e-commerce retailers? First, those who already had a strong e-commerce strategy will have more flexibility to adapt than brick-and-mortar retailers and may be more likely to survive the pandemic and the supply chain interruptions it presents. Digital transformation is crucial, and many who were planning to add it down the line found themselves fast-tracking to add digitization this past spring.
Why is this? Retailers found growing customer expectations, rising competition, and increased supply chain disruptions left them with no other choice. Digitization allows retailers to look beyond their website and marketing technologies and invest in the best supply chain technology. This allows retailers to quickly and successfully pivot to an omnichannel model to support traditional retail in the future while protecting the business through e-commerce in the present.
Looking Toward the Future
Despite the growing uncertainty around what the rest of 2020 will look like, another recent survey found more than half of SMBs believed they are positively navigating the crisis in such a way that their business will emerge as strong or stronger than before. Fewer than 8 percent were pessimistic or concerned about permanent closure.
Nevertheless, business owners are keeping an eye on things. More than half are adequately prepared for a second wave, which may force them to shut brick-and-mortar stores again and return to solely e-commerce. Having the right technology in place can empower them to make that quick pivot without drastically damaging their business.
"We are seeing SMB owners and IT leaders stepping back to try to refocus their priorities and spending as they emerge from the crisis phase of COVID-19," said Independence Research founder and principal analyst Matt Davis. "Many of these businesses are planning to maintain or increase their technology investments, but they will direct spending on technologies that will directly impact their success post-pandemic."
Get Ready With Sage 100 Integration
With significant numbers of consumers predicted to continue buying online even after the effects of COVID-19 subside, and households beginning to ramp up for back-to-school and holiday shopping, SMB e-commerce retailers need to be prepared with digital transformation technologies to improve a consumer's experience from first click to final delivery. Retailers need the agility to adapt to constant and rapid changes in the marketplace in order to survive.
Digital technologies can optimize operations across your entire business, including supply chain. If you're not one of the businesses that has embraced digitization already, there's no better time to start than now. Consider not only traditional digital solutions such as ERPs and warehouse management systems, but also an integration solution that can make it all work together, seamlessly, for an excellent employee and customer experience: IN-SYNCH® Sage 100 integration by ROI. This real-time, bidirectional data synchronization keeps your e-commerce platform, third-party shopping cart(s), warehouse systems, 3PL providers, and more connected with critical information.
Keep your SMB running smoothly through whatever comes next with digitization and integration. Click here to get started now.