By Bob Richter • March 22, 2023
Blog
|
Is Hyper-Personalization Achievable?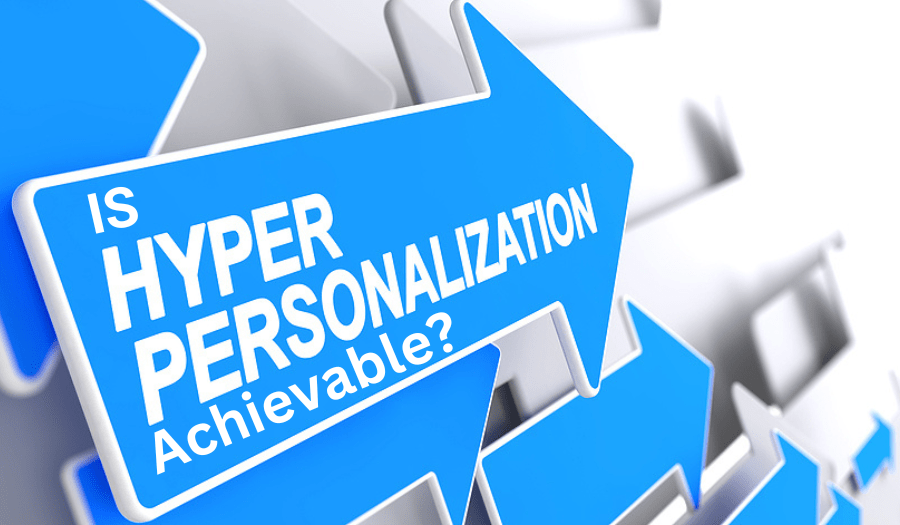 Since 2020, customers' shopping behavior has changed drastically. In addition to a dramatic rise in online shopping, over 75% of U.S. consumers have switched to new brands (according to a study by McKinsey). In an age of online shopping, how can you help customers find the perfect products if they only interact with the business through the e-commerce platform?
Hyper-personalization may be the answer.
What is Hyper-Personalization?
Many retailers personalize the customer experience on their e-commerce platforms by doing things like sending someone a birthday message with their name or suggesting similar items on a product page. But these solutions can be time-consuming, and customers may no longer feel very special when your company sends them birthday emails. Hyper-personalization takes this idea of personalization several steps further.
Hyper-personalization is when a retailer creates individually personalized customer experiences by using data, automation, and AI. Hyper-personalized systems can recommend items the customer may enjoy based on past purchases or location, track the customer around the website to constantly improve product recommendations during a single search, and send messages to a customer around the time they may run out of a disposable product. Hyper-personalization may also include targeted ads as well as personalized customer service through chat bots and similar solutions.
This level of personalization is only available through technologies like artificial intelligence, machine learning, and natural language processing. These technologies bring hyper-personalization to the cutting-edge of e-commerce innovation.
Hyper-personalization may take into account:
A customer's demographic information like age and gender
The device or channel the customer is using
A customer's comprehensive search history
Clickstream data (where a customer clicks on the website)
Other items in their cart
The time of day customers are using the website
The customer's geographic location
For example, if a customer searches for "warm pants" in December in Minnesota, a hyper-personalized system may start with suggesting the retailer's highest-rated snow pants. The customer clicks on a pair of purple women's snow pants. Now, the system narrows its recommendations to women's snow pants and suggests a range of products with similar colors or prices. With each click, the system learns critical information about the customer and what they are really looking for—regardless of what they originally typed into the search bar.
3 Benefits of Hyper-Personalization
Businesses can gain many benefits by hyper-personalizing their e-commerce sites. First, and most importantly, they will vastly improve the customer experience. Customers will save many frustrating minutes of clicking aimlessly through thousands of search results to find what they want.
Since customers are more likely to find what they want if the e-commerce system has been hyper-personalized, higher conversion rates, higher purchase satisfaction, fewer returns, and more loyal customers can be achieved.
Lastly, hyper-personalization can take the burden off employees to personalize a customer's experience. Instead, this process will be handled automatically through AI and machine learning. Increase ROI by giving the team space to focus on more important tasks.
How ROI's Integration Comes In
At ROI, we work with businesses that have been using Sage 100 for many years, customizing the solution over that time. Sage 100 gives them an essential workflow built to deliver an effective and heightened level of customer service. When these businesses launch a new e-commerce platform, the platform needs to maintain and improve the delivery of the products and information each customer has grown to expect. Whether it be the customer-specific pricing, products, payment terms, shipping methods, tax schedule and so on, or the real-time, 24/7 ability to place orders, receive current shipment status, pay invoices, and reorder, this personalized service is essential.
We regularly help customers replatform to meet industry needs, and IN-SYNCH can give the data necessary to hyper-personalize an e-commerce system by integrating it with Sage 100 ERP. Explore our wide range of Sage 100 integration options, then contact us to continue the journey towards hyper-personalization and happy customers.