By Ruth Richter • May 23, 2023
Blog
|
IN-SYNCH: The Gold Standard for Sage 100 Integration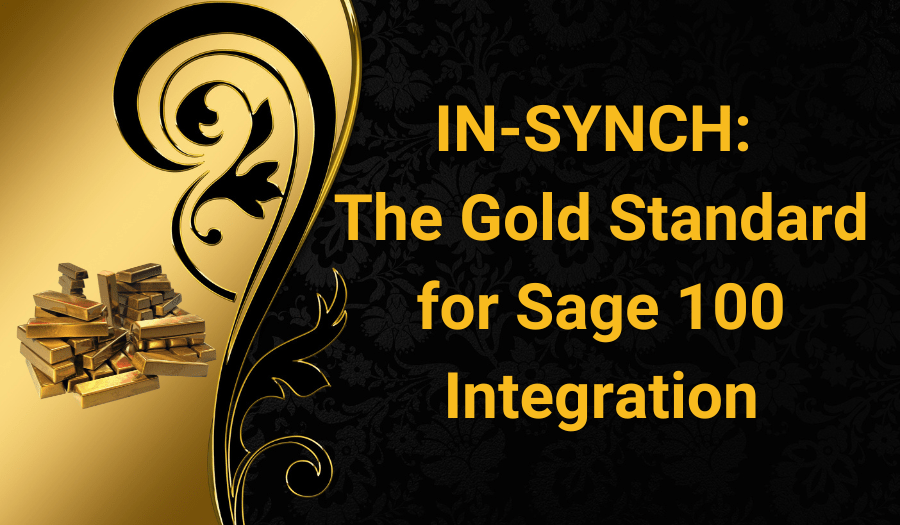 ROI is on a mission to maximize your software investment through Sage 100 integration and customization. Over the last twenty-five years, we have performed more than 1,000 integration projects to date, including website shopping carts, marketplaces, data warehousing, and more. Due to our proven record of stellar Sage 100 e-commerce integrations, we are a Sage Tech Partner and IN-SYNCH can be found on the Sage Marketplace.
Using our solutions will save you time, headaches, and money. We're here to make your life easier! Learn more about what we do below.
We Can Integrate Anything
IN-SYNCH is a Sage 100 installed application that provides real-time data synchronization with any third-party system. Our engineers can integrate your Sage 100 platform with e-commerce sites, third-party shopping carts, custom sites or databases, and anything else. Here are the main e-commerce platforms and marketplaces that we integrate:
Adobe Commerce
Amazon
BigCommerce
eBay
Shift 4 Shop
Shopify
Walmart
WooCommerce
While these are the platforms that most of our customers use, IN-SYNCH can integrate any platform with Sage 100. The possibilities are endless!
Other Benefits of IN-SYNCH
In addition to its proven success record and wide scope of integrations, IN-SYNCH has other qualities that make it the gold standard in Sage 100 integration:
Security: We take our customers' data very seriously. With IN-SYNCH, all data exchanges are initiated and controlled from within the Sage 100 server. That way, all your data exchanges benefit from Sage's extensive security measures. In addition, because these exchanges do not require outside access to an accounting system server, you get the benefit of strict security without pesky slowdowns or loading times.
Real Time, Bidirectional Data Synchronization: IN-SYNCH helps your systems talk to each other. With our solution, your Sage 100 ERP, and any third-party system—an e-commerce shopping cart, a CRM database, or a warehouse management system—pass data back and forth through automatic, real-time changes. You need lightning-fast data in order to run your business most efficiently: IN-SYNCH uses the most efficient data mirroring methods available to help you do just that.
Independent Systems: Although IN-SYNCH will create a seamless connection between your ERP and third-party system, it still allows each system to run independently. This means that if one system goes down due to maintenance, a power outage, or technical difficulties, the other system will remain running. After the affected system is restored, the two will sync automatically.
But Wait, There's More!
Not only does IN-SYNCH connect your Sage 100 with third-party systems, but it also allows real-time, streamlined intercompany automation. Our solution automates intercompany workflows and eliminates the inefficiencies caused by manual data entry. As your company grows, IN-SYNCH keeps your data flowing smoothly and automatically, saving your team hours of manual data entry and processes.
ROI has also launched our new Connector API for Sage 100, which empowers your developers to build new programmatic interactions between your various applications and Sage 100. In our scalable API solution, we have created a series of endpoints that allow developers to interact with our connector and their databases without needing to have extensive Sage 100 knowledge. With our Connector API, your developers can create entirely automated interfaces between your software programs, which can save countless hours of manual data transfer on the part of your employees.
Learn How ROI Can Transform Your Business
Still want to know more? Read about our many customers who have increased their efficiency and profits through our work.
Contact us today to find out how ROI and IN-SYNCH can improve your profitability through real-time data synchronization between Sage 100 and any third-party system.