By Ruth Richter • March 17, 2021
Blog
|
Fulfillment Networks – Are They Right for Your E-Commerce Business?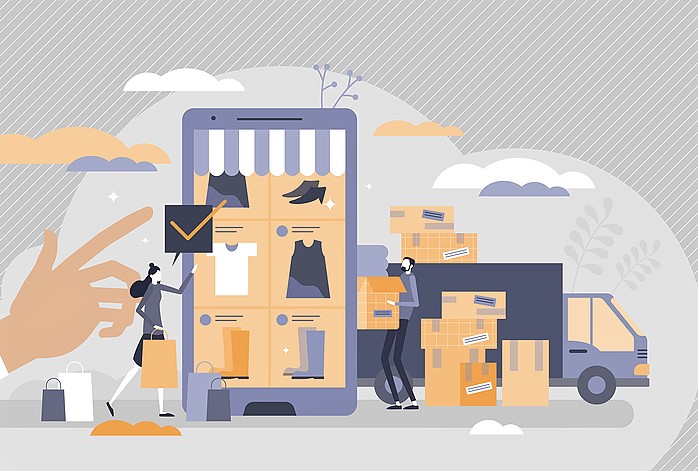 Fulfillment is an important part of e-commerce and a big contributor to customer satisfaction. Whatever is sold online must run through a system to ensure inventory is properly stored, has the right packaging, and is received in a reasonable amount of time. After all, a recent study found that more than half of shoppers value delivery speed when shopping online, and as many as 25 percent will cancel an order if delivery will take too long. In addition, the method of fulfillment a company chooses can determine how much it will cost the business to get products to customers, and how much of that cost must be passed back to the customer.
Some businesses have their own warehouses and fulfillment centers. Others choose to use a third-party logistics provider (3PL) to manage inventory, fulfillment, and shipping. This includes fulfilment networks that are tied to a specific marketplace or shopping platform. Many businesses use a mix of all these options to expand market coverage and ensure timely delivery.
Fulfillment Networks Explained
Our customers have been using the Fulfilled by Amazon (FBA) option for years, the Shopify Fulfillment Network (SFN) was introduced in June 2019, and Walmart rolled out the Walmart Fulfillment Service (WFS) a year ago. All three services offer the regular practice of product fulfillment, with the added benefit of integrating with an online store. Typical tasks offered by these fulfillment services include:
Receiving shipments and putting inventory away
Picking orders as they come in from multiple sales channels
Packaging orders in standard or custom boxes
Buying, shipping and automating the delivery of tracking orders and carrier tracking information
Inventory management, including recommendations for reallocation, resupply, and inventory levels
Return/exchange processing
Joining a fulfillment network requires submitting an application for approval. Some start with having a new or existing account and selling directly through their channels. Other guidelines may be required such as location, number of SKUs, number of orders, and not offering prohibited or regulated products such as firearms, perishables, or pseudo pharmaceuticals.
Which Fulfillment Services Work for Your Business?
The fulfillment service you choose will depend on your chosen shopping carts and marketplaces. Using an independent third-party logistics (3PL) company gives you more control over branding, packaging, and shipping and can work with many e-commerce shopping carts and marketplaces. 3PL offers the most autonomy where the fulfillment appears to be coming from the e-commerce business. On the other end of the spectrum, marketplaces like Amazon and Walmart provide end-to-end fulfillment services. Shopify is sort of a hybrid by providing fulfillment while the e-commerce business keeps most of its branding.
Here are some questions you should consider when choosing a fulfillment service:
Whose name is on the box?
With a traditional 3PL and SFN, your business can order customized package printing, branding on the additional elements that go inside each box, and any other requested branding elements.
While Amazon and Walmart have greater reach and name recognition, the main brand customers see isn't the selling company, but the fulfillment service brand. For instance, when shopping FBA, shipping communications come from Amazon, boxes are printed with the Amazon logo and everything the customer sees is branded for Amazon. This can be a missed marketing opportunity for a retailer.
Who owns the customer data?
When selecting a fulfilment service, e-commerce businesses should consider who owns the customer data. Amazon and Walmart become the holders of customer data with their online services. Some vendors have complained that marketplaces use merchant data like order volumes to create their own low-cost version of the products. With SFN, wherever the fulfillment activity occurs throughout the extended fulfilment network, you retain control of your data to make informed decisions for future growth.
How is shipping managed?
The top consideration for most businesses when choosing a fulfillment provider is shipping service, speed and cost.
Amazon FBA clearly has expert shipping practices and a vast shipping network. Once a customer makes an order, FBA processes the payment, ships and tracks the product. Amazon's customer service team addresses any issues that arise. Every two weeks, Amazon adds up your sales, deducts their cut, and sends your payment.
Walmart came later to the e-commerce marketplace than Amazon but has the size to offer a competitive fulfilment product. Walmart offers free one-and two-day shipping and also in-store returns. WFS charges a storage and fulfillment fee for items processed, but not a monthly charge.
SFN does not operate its own trucks but uses existing shipping companies. However, customers can download and use the package tracking app by Shopify. SFN provides real-time insights on inventory levels, showing not only how the business is performing, but also helping retailers maintain adequate stock so they do not run out of popular or in-demand products.
A Walmart/Shopify integration was launched in June 2020 that allows Shopify sellers to join the Walmart Marketplace. Businesses that apply and are accepted can add products to the Walmart Marketplace, for a fee, while managing product data and inventory within Shopify.
Manage Integration with ROI
No matter what fulfillment service you choose, there is an integration option that will keep information flowing effortlessly between company-owned fulfillment centers and/or 3PL provider software: IN-SYNCH® Sage 100 integration by ROI. This fully customizable integration solution can ensure that inventory, order information from all sales channels, shipping information from fulfillment departments and 3PL providers, returns/exchanges, and more are all tracked in real time, with information centralized in the e-commerce retailer's Sage 100 ERP solution.
E-commerce retailers have a lot to manage. If you've been looking to take some of the heavy lifting of integration off your plate and want to know if or IN-SYNCH are the right solutions for you, our integration specialists are here to help.