By Ruth Richter • November 14, 2023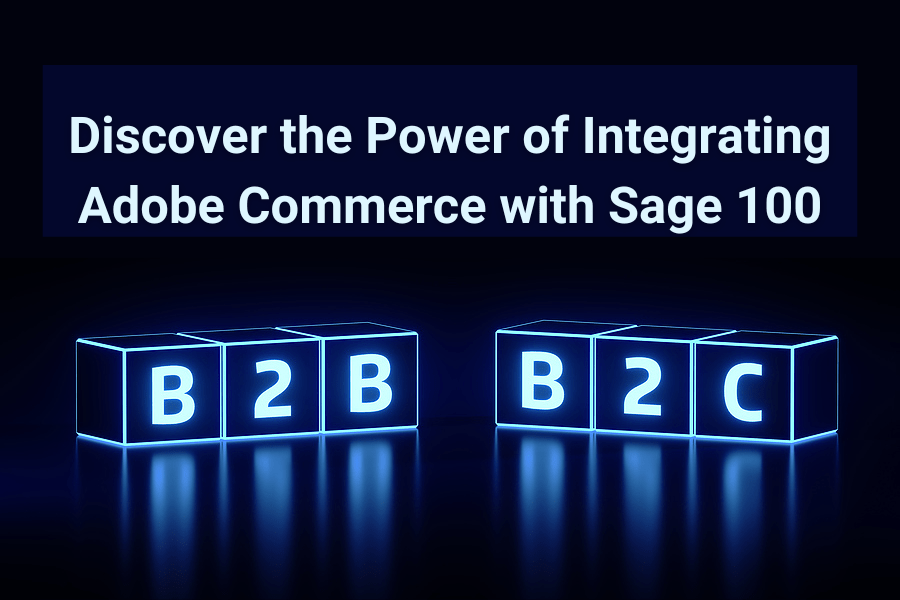 After performing countless integrations for our customers using Adobe Commerce (formerly branded as Magento), we've found it to be a flexible, scalable ecommerce platform that has the power to support complex business operations. Businesses using Adobe Commerce powered by Magento have features, extensions, and customization options that can support many different product types or brands. A cloud-native software, it can easily handle high traffic and responsive customer experiences. And most of all, the platform can be tightly integrated with Sage 100 which enables a business-to-business ERP ecommerce solution that is second to none.
Benefits of Adobe Commerce Powered by Magento
We did some research to identify the strong benefits of the Adobe Commerce platform, which are many! Take a look:
Multi-channel capability: Adobe Commerce can manage B2B, B2C, or both kinds of operations on a unified multi-channel solution. Every one of your company's brands, channels, and sites can be managed from a central view. This reduces internal complexity and cost without sacrificing functionality or customer experience.
Unique B2B features: Adobe Commerce allows your business to set up customer company accounts with multiple buyers in tiered organizational structures. It can also automate order approval processes through unique rules set by each customer and allows for rapid reordering. These capabilities are the reason many large B2B companies choose Adobe Commerce as their ecommerce platform.
Scalability: With a layered cacheable architecture and a global reference architecture, Adobe Commerce allows your company to quickly deploy new storefronts, new extensions, or new apps. Adobe Commerce can grow with your company—no matter how big it gets.
Customization: In the Adobe Commerce Marketplace, your company can choose from thousands of both free and paid apps and extensions.
Adobe Integrations: Adobe Commerce includes native integrations with other Adobe products such as Analytics, Experience Manager, Sign, Target, and Creative Cloud. These integrations allow you to get a 360-degree view of your customers and business.
AI-powered features: Adobe Sensei, an artificial intelligence software, can help your company automate tasks such as product tagging, catalog updates, and personalizing customer experiences. Adobe Firefly, a generative AI system, can help your marketing team create content rapidly across channels.
Another Huge Benefit: Flexible API for Integration
Perhaps the most important benefit of Adobe Commerce powered by Magento is the software's flexible API. Adobe Commerce's modular, open platform architecture can become an adaptable headless solution that streamlines data exchange and reduces costs. Your company's developers can build composable applications, combine multiple sources of API into a single graph, and create real-time integrations to other systems—all in a serverless PCI-compliant environment.
Integrating Adobe Commerce with Sage 100 can take your company's operations to the next level. If your company wants to integrate Adobe Commerce with Sage 100, ROI has the perfect solution: our IN-SYNCH software can easily integrate these two systems. IN-SYNCH creates seamless bidirectional data flow between Sage 100 and Adobe Commerce, transforming your business and opening up new possibilities for growth and profitability. We've been deploying this solution for our clients since 2009, when Adobe Commerce was still Magento. We performed many re-platforming projects from Magento 1 to Magento 2. And today we are integrating Adobe Commerce powered by Magento and our clients love it!
Ready to Get Started?
If your business doesn't need quite the amount of features and customization possibilities Adobe Commerce powered by Magento offers, we encourage you to check out WooCommerce. WooCommerce is a free open-source plugin for WordPress that ROI can easily integrate to Sage 100 through IN-SYNCH.
Are you ready to learn more about how ROI can help integrate Adobe Commerce or WooCommerce with your business's Sage 100 ERP? Contact us today to learn how our team of experts can partner with your company to help it achieve new levels of efficiency and profitability.