By Ruth Richter • November 25, 2020
Blog
|
Boost Your Year-End Sales With These Holiday E-Commerce Tips for 2020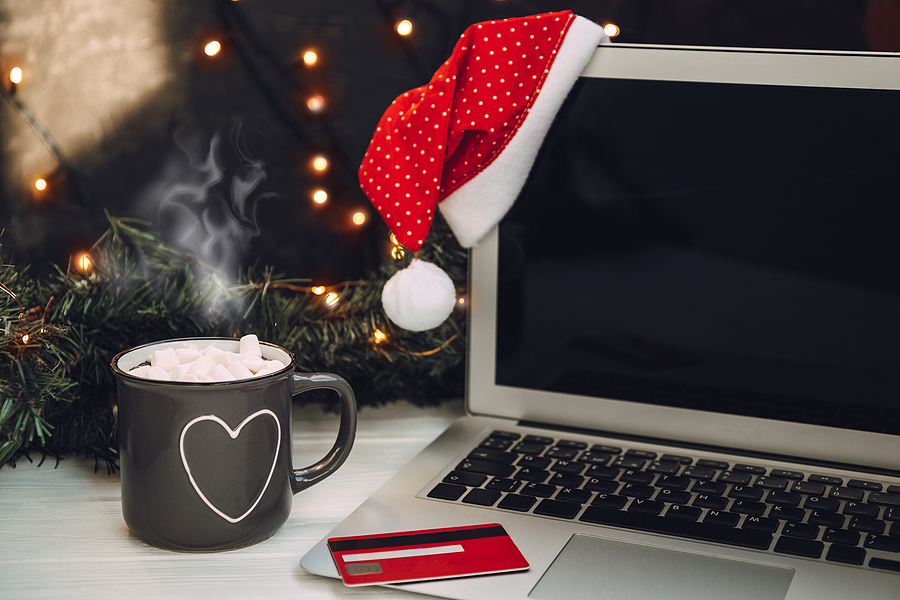 The holiday season has traditionally benefited brands and shoppers alike, driving some of the highest sales of the year. But, a successful holiday strategy in 2020 is going to require some different approaches. While some are predicting that retail sales will rise 1-1.5 percent, others are predicting a 2.5 percent decline.
Either way, online shopping is going to explode.
What 2020 Has Done to Holiday E-Commerce
Online shopping has been steadily on the rise since many shelter at home and social distancing orders went into effect earlier this year. While many hoped that we'd be back to "normal" by the holidays, uncertainty around COVID infection rates will continue to impact everything from holiday buying to holiday travel. Many restrictions—such as inter-state travel or gathering-size limits—will mean that consumers forgo traditional travel and get-togethers, instead giving gifts to make up for the missed time together.
With fewer parties to host or attend, consumers may also console themselves by investing in more holiday decorations or home improvement projects.
In short, dollars that would normally be earmarked for travel or going out will instead be funneled into homes and gift-giving, adding ammunition to an already explosive e-commerce industry. In fact, two recent studies are finding that between 42 percent and 62 percent of adult shoppers plan to do their holiday shopping exclusively online.
5 Tips for a Successful Year-End Sales Season
This is all good news for online retailers, though it does add some pressures such as accurately communicating inventory levels and shipping delays to customers. We've assembled a few holiday e-commerce tips that can help you prepare for and execute a successful year-end sales season.
Prepare for Mobile Traffic: While many are still working from home and surfing through their favorite online shopping sites from desktops and laptops, still more will be scrolling through sites on mobile in search of good deals and special offers. Optimizing your e-commerce site for mobile can help turn the casual unintended visitor into a buyer. The easier it is to shop deals and purchase via mobile, the more likely customers are to complete a purchase—whether impulse or planned—from their phones.
Employ Inventory Management Software: As stated earlier, an added pressure for e-commerce retailers is the accurate portrayal of inventory levels, since an online shopper can't see a physically empty shelf like they can in a brick-and-mortar store. Inventory control becomes extremely important, especially if your e-commerce includes multiple channels. Connect your systems to ensure shoppers have accurate visibility into a product's availability and purchasing teams can plan for additional inventory based on regular sales data.
Drive Anticipation with Timeout Deals: Creating a sense of urgency can compel shoppers to add to their cart and check out sooner. Many email and website plugins will allow you to create a countdown timer that provides a visual reminder of just how much longer customers can take advantage of a spectacular deal. Products that drive compulsive buying behavior are perfect ones to promote. Some businesses may also choose to count down to a blowout savings event or exclusive new product launch.
Shipping Incentives: In the world of Amazon Prime, more and more customers are expecting rush or no-cost shipping from other retailers as well. Free shipping does tend to become a standard offering during the holiday season. Boost your sales by offering free shipping once an order reaches a specific threshold, whether that is in quantity or purchase amount. The boost in sales volume can also kick back to sellers in the form of price breaks from suppliers, making it easier to offer customers downstream price breaks and discounted (or free) shipping.
Curbside Pickup: For retailers that have the ability, add the additional option to purchase online and pick up curbside. Many experts are anticipating an even higher volume of packages shipped this holiday season, which could overwhelm logistics capacity and result in some deliveries not arriving until after Christmas. Shoppers who take this into account themselves will begin their holiday buying sooner. But for the inevitable late shoppers, a click-and-collect option will empower them to continue their December 24 shopping habits while still driving revenue for your retail business.
Prepare for the Unpredictable With IN-SYNCH Data Integration
While this unpredictable year has made it harder to see what might be on the immediate horizon when it comes to consumer spending, many agree that the trends toward social distancing and continued quarantines will drive e-commerce much stronger this holiday season.
Find out how integrating and synchronizing data between systems can push your e-commerce business to the next level with accuracy and automation. IN-SYNCH® Sage 100 and 100cloud integration by ROI can connect everything from e-commerce platforms to third-party carts, to 3pl provider systems, warehouse management systems, CMS, and more. With its secure, bi-directional, real-time integration, IN-SYNCH ensures organizations have a finger on the pulse of every aspect of their business. Find out how integration can help your e-commerce business prepare for whatever the future brings in 2021. Talk to an integration specialist now.