By Ruth Richter • April 12, 2023
BigCommerce
|
Better Together: ROI and BigCommerce Continue a Successful Partnership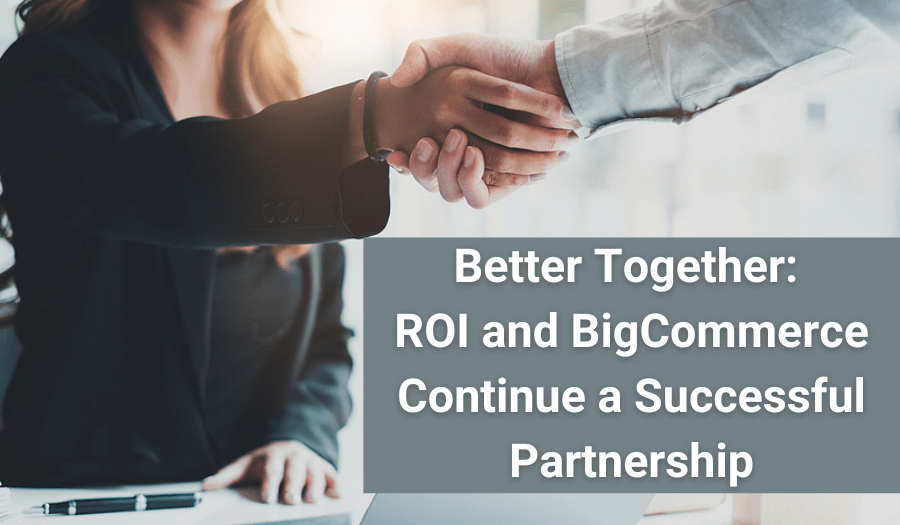 We have been helping wholesale distributors, manufacturers, and online merchants connect their e-commerce platforms to Sage 100 for over 25 years. One SaaS platform, BigCommerce, has become a standout for our customers due to their strong B2B solution.
According to the Forrester Wave, BigCommerce has been named the "most trusted" commerce solution provider. They support over 68,000 merchants. As stars in their fields, it was only a matter of time before ROI and BigCommerce teamed up for mutual benefit.
Benefits to Customers
IN-SYNCH and BigCommerce combine to produce real-time, bi-directional updating of financial data. By using IN-SYNCH and BigCommerce together, our customers gain access to powerful features like complex product catalogs and customer-specific pricing. Through automating the data flow between BigCommerce and Sage 100, IN-SYNCH eliminates manual data entry, reducing errors and fulfilling orders more quickly.
BigCommerce offers a very flexible application programming interface (API), which means IN-SYNCH can integrate just about any touch point with our customers' Sage 100 ERPs. Some of these touch points include pricing, order history, and inventory quantities as well as credit card processing and tokenization.
Watch the 9-minute demo below to discover why BigCommerce is the "most integratable" SaaS e-commerce platform for Sage 100 on the market.
Proven Success
Don't just take our word for our success—you can read about Autograph Foliage's success here.
Also, take a look at the reviews we've received on the Sage Business Cloud Marketplace for our BigCommerce listing, including: "Automation as it was intended; everything just works," "I would rate them a 10/10," and "the product is also highly customizable to fit a large range of needs."
IN-SYNCH has its own listing on the Sage Marketplace as well as a listing on the BigCommerce Marketplace. By providing these listings on the marketplaces, ROI and BigCommerce can reach even more customers who need a cost-effective B2B e-commerce solution to integrate with their Sage 100 ERP.
Sage Summit
Our work together does not stop there. We are thrilled to announce that ROI will be introducing Sage partners to BigCommerce at the Sage Partner Summit in Las Vegas from May 22-24, 2023. If you are planning to attend the event, stop by the BigCommerce booth and see us!
If your business won't be at the Summit, you can still learn more about how BigCommerce and IN-SYNCH can revolutionize your e-commerce strategy. IN-SYNCH is a proven solution that offers tight security, real-time integration, and fast data transfers and exchanges. Contact us to learn how ROI can help your business increase its profitability and efficiency.