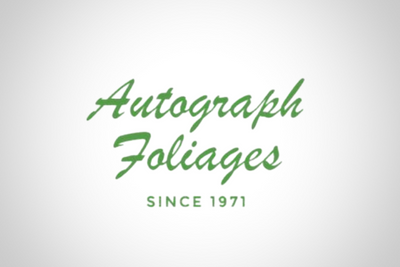 Autograph Foliages is a wholesale artificial plant supplier that manufactures quality artificial plants, trees, Christmas trees, and more. This family owned and operated business has been providing products and decorating services for artificial plants for more than 40 years. When they needed an integration solution to pull BigCommerce® data into their Sage 100 system, they turned to ROI, Inc.
Challenge

Although Autograph Foliages has evergreen business all year round with customers that range from retailers to movie production sets, the holidays are an especially important time for their business. Many wholesale and commercial customers use their products to decorate their homes and businesses and want quick access to product information online. Because Autograph has a vast inventory of available products, keeping their e-commerce website current with accurate descriptions, photos, and inventory availability is a lot of work. They needed the systems to communicate so their crucial data, such as customer information, pricing updates, and purchase orders could all be up-to-date at any given time.
The challenge was finding a Sage 100 integrator who could provide the complete connections they required. Autograph was committed to BigCommerce as their primary e-commerce solution because of its open API that allows for deep integration not found in any other Software as a Service (SaaS) platform. BigCommerce has become a popular selection for manufacturers and distributors who use this powerful accounting platform for its efficiency and convenience for their customers' order processes.
Autograph's first Sage integration was with an integrator that claims to "fit all platforms" and after about a year of headaches, Laura Blitz, head of Autograph Foliages' Graphic Design and IT Department realized that what they had promised was not going to be achieved. Not only did tracking and updating not perform, neither sales nor engineering staff could fully understand what the needs were in order to meet them. In 2018, Blitz started the search for a solution that could successfully integrate BigCommerce with Sage 100 and found ROI.
Solution
From the first meeting with ROI, "everything went really smoothly," says Blitz. It was clear ROI knew what was required because of how well they know Sage, and that helped her have confidence in ROI's implementation team and sign off on the project. "ROI is really easy to work with. They're knowledgeable, understanding of our needs, and are able to integrate between Sage and BigCommerce smoothly."
ROI's data automation tool for Sage 100, IN-SYNCH, was used to integrate Sage 100 and BigCommerce, in addition to a BigCommerce API connector. The solution provides the seamless, customized system Autograph needed. IN-SYNCH is robust enough to handle multiple companies, databases, and shopping carts. This makes it a natural fit for Sage 100 integrations with BigCommerce. Based on extensive integration experience with BigCommerce, ROI knew the platform offers the convenience of SaaS e-commerce with significant Sage 100 data integration capabilities.
Result
For Autograph Foliages, IN-SYNCH streamlines and simplifies many of Autograph's processes and frees up time for their employees. Operational time is reduced because orders are automatically populated in Sage 100. IN-SYNCH integrates and automates their customized fields for inventory, purchase order information, inventory management, and customer details. When customers can easily access their order data, it ultimately saves time required to process orders.
With a fully integrated e-commerce solution, the customer shopping experience is greatly enhanced with the accurate, real-time information that is available. Customer satisfaction increases because customers can see their orders, what's available, what's not, and other important information they need right away. This automation has set Autograph Foliages up for growth. Whatever plans they have for the future, Blitz is confident in the abilities of BigCommerce and ROI's IN-SYNCH to make them possible.
"ROI is really easy to work with. They're knowledgeable, understanding of our needs, and are able to integrate between Sage and BigCommerce smoothly."

Laura Blitz