By Ruth Richter • September 15, 2022
Blog
|
The latest on Microsoft and Security Updates for Sage 100 Users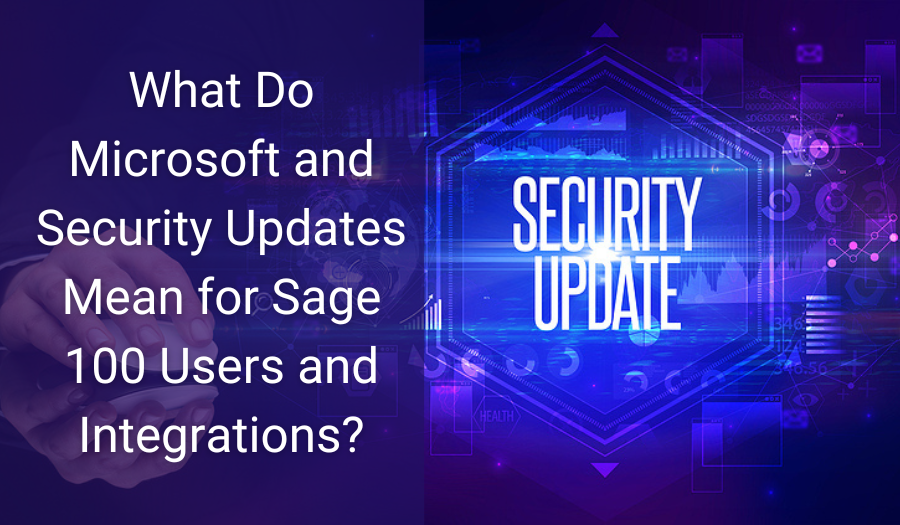 There are some big technology changes happening by Microsoft. That makes it more important than ever to be on the supported versions of Sage 100.
Effective October 1, 2022, Microsoft will disable Basic Authentication and will be replacing it with Modern Authentication (OAuth) for Microsoft Exchange Server and Office 365. In addition, a new requirement for Transport Layer Security (TLS) will go into effect sometime in 2023. Originally this meant that Sage 100 customers on unsupported versions would need to upgrade their Sage 100 to supported versions Sage 100 2021.4, 2022.1 by the deadline, however on September 9, Microsoft provided Sage additional guidance specific to our use of SMTP Auth for email integration between Sage 100 and Exchange Online. While Microsoft will block basic authentication for many online services, active accounts using SMTP Auth will not be impacted. Even so, it is a best practice to use latest versions of Sage 100. Let's look at what upgrading to supported versions provides related to Microsoft authentication.
The notice Sage released indicated customers need to be aware that many other online services will be impacted; so while Sage 100 in-product email services will continue to function, other client applications using POP, IMAP, etc. can be impacted as of October 1.
New Requirement for Transport Layer Security (TLS)
Sage has announced they will stop supporting products using TLS 1.0 and 1.1 sometime in September 2023. This means users with Sage versions older than 2019 will need to upgrade. If the upgrade doesn't happen prior to the new requirement taking effect, then the software will revert to read-only mode. The new TLS is expected to vastly improve security. (See the original announcement from Sage here and the current guidance here.)
Sage 100 Updates and IN-SYNCH
Sage 100 users who upgrade need to be sure their connected, 3rd party applications, including IN-SYNCH, are also compatible. Customers who upgrade their Sage 100 system need to upgrade their IN-SYNCH application to avoid disruption.
IN-SYNCH 2022 is available and compatible with Sage 100 2022.1. We have been working hard to assist all our customers in updating their systems. Because so many customers are updating their Sage 100 versions, we are holding off our release of the new IN-SYNCH features.
ROI Customers should reach out and schedule with us as soon as possible to ensure that software is up to date. We are here to support you, so act fast and contact us today!