By Ruth Richter • September 16, 2020
Blog
|
Six Evolutionary Trends in Website Design for 2020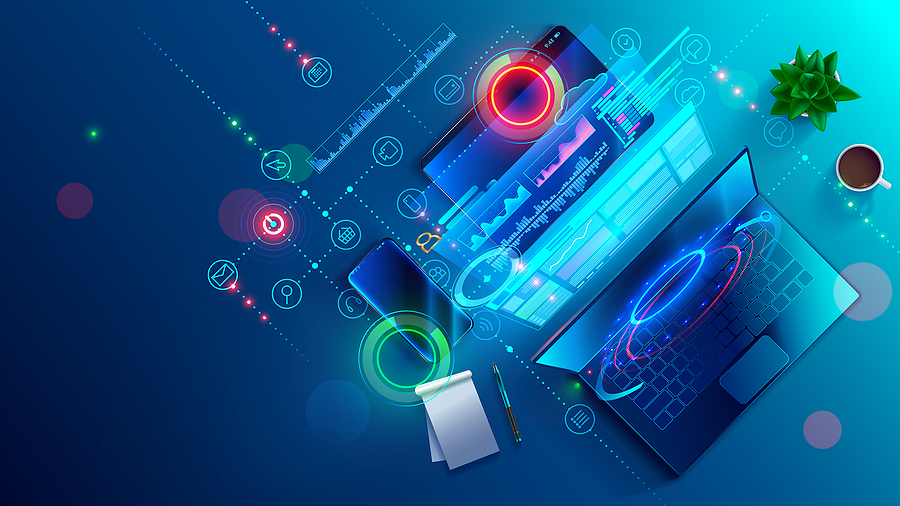 It's safe to say that the internet and web design have grown up in the last 30 years. Facebook used to be TheFacebook. Amazon only sold books. Even Google had an exclamation point at the end of its name and was still just a website instead of a verb for searching the web.
Your business may have even been among the first to have a website. Likely, it was simply an electronic calling card, letting anyone who found it know who you were, what you did, when you were open, and where they could find you.
Like business, how you design your website and what you do with it has also evolved in the last 30 years. Here are some of the biggest changes and why it's important that your website stay at the forefront of the internet evolutionary chain.
Content and Responsive Design
Digital marketing is more popular than ever, and one of the key players is your website. Thirty years ago, when the internet took its first steps, webpages were simple and text-heavy. These one-sided sites were mainly information dumps in cascade organizations. Now that technology has evolved, websites are a primary medium for getting your message across.
Design now leans toward a clear, simplified message. Not only that, it must be designed for optimal loading on any device—computer, tablet, or mobile—and scale immediately to the appropriate screen size without sacrificing quality or information.
Homepages have evolved from information dumps that told a visitor as much as possible on the very first page to a more focused message that only shares the most important content. Marketers rely on acronyms such as SEO and CTA to help the right visitors find the site and show them exactly what to do once they get there. Content can make or break a website.
Going Mobile
Where we view webpages has also changed. Mobile browsing is becoming more and more prevalent. In fact, mobile ecommerce accounted for $207.2B in sales in the United States in 2018, and is predicted to crest over $330B in 2020. The rise of the mobile web has had one of the biggest impacts on website evolution. Websites now must be built to function on mobile with responsive design as a standard. Mobile use is now a key part of any website project and online strategy.
Mobile functionality requirements place a higher demand on your website's performance. But with higher performance, you can significantly reduce visitor abandonment, leading instead to a higher conversion of opportunities, sales, and revenue.
Minimal Navigation
Website navigation is also benefitting from a "less is more" approach. The now-recognizable triple line of the hamburger menu first popped up in apps and mobile versions of full sites, but is now also being incorporated into full desktop sites as well.
Minimal navigation menus—whether they be limited text options or a hamburger menu—function to make user interface and navigation much cleaner. Minimizing the options for your visitors actually reduces the opportunity for decision fatigue, cutting down on the chance that your users will either be distracted from the core message, or too overwhelmed to make a choice to the point they click off your site. Minimizing options in a hamburger menu or simplified top site navigation can also provide direct access, which enables your users to access what they prefer much sooner than if they are forced to experience your content in a specified serial order. This direct access promotes usability and speed.
Graphics That Support Content
The first websites were text-only, with the only color being blue hyperlinked text. Over the next 30 years, graphics were added, first in overwhelming quantities that detracted from the message, then in interactive motion that required the latest version of Flash to use, and now finally to larger, clean, simplified images that are used in more impactful ways. Rather than draw the eye away from messaging and calls to action, graphics and images are now used to enhance the content without distracting from it.
Make it Personal
In the past, every website visitor had the exact same online experience regardless of who they were. Now, sites like Amazon, Netflix, and more champion the trend of website personalization, or the adaptation of content to the audience based on login credentials, device type, previous interaction, even location. Curating specific content—such as a product recommendation based on previous purchases, or an updated store address based on location—can stimulate usage and loyalty.
Making Connections
Business websites are no longer stand-alone "brochures." They are used to sell products, interact with customers and support employees. These capabilities are made possible with integration to other systems such as ERP, CRM, third-party shipping, and payment systems.
Is Your Website Doing What it Should?
Understanding the power of your website's future means first understanding the past and the changes that have led us to the now. Comparing modern web pages to what we first saw in the 1990s and early 2000s pinpoints these shifts in strategy and design that have built today's websites. No longer is a website and its design about what we can do; it has evolved into what we should do to affect a positive experience for those who use it.
Find out how ROI can help your website stay at the forefront of the internet evolutionary chain by talking to one of our integration experts today.