By Ruth Richter • May 27, 2020
Blog
|
Marketing in the Time of COVID-19: How Do You Evolve?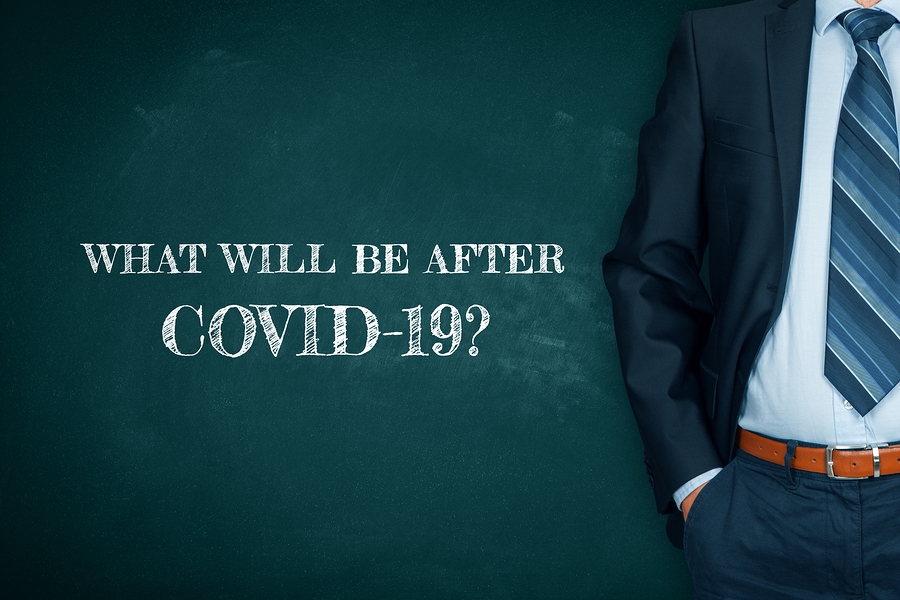 Now that the burst of reactive action to the COVID-19 crisis has settled some, companies are able to begin strategizing how best to move forward. Marketing tactics that worked just fine up until early March are mostly scrapped. Future plans have to walk a narrow path that considers customer needs and resources, employee safety, and the solvency of the business.
Every marketing effort is now reframed through the lens of the pandemic and how that has impacted broader business. This is especially important to remember as marketing is what sets the tone for how your customers perceive you at this critical time.
It's not easy to find the right message, especially when it seems like the situation continually evolves on a nearly daily basis. You can't wait until there's clear direction to make a move. So where do you start?
COVID-19 Marketing Action Plan
Experts at Gartner developed a four-step action plan that helps marketers define scenarios, monitor customers, and plan for changes in marketing:
Scenario planning: Map out an estimation of best, worst, and moderate-case scenarios from your business' perspective and those of your customers and partners. List the specific challenges that customers, brand, and marketing may face in each scenario, and actions to take in response.
Changes in customer behavior and sentiment: Most consumers have a history of distrust when it comes to things like the government and big brands. Whether your brand is big or small, you need to know what your customers feel and do, and why. Glean from your social media interactions and sales feedback to see what is changing in sentiment and/or concern. To earn and maintain trust, give balanced responses that support your customers, but don't promise more than you can deliver.
Operational impacts: Supply chains all over the world are facing disruption in one form or another, while service demands are rising from homebound customers. Make sure you're setting realistic expectations and not advertising a product that, due to the crisis, will not be ready in time. Add capacity for customer service needs. Push the availability of digital services where possible. Deprioritize spending in marketing efforts that are now out of tune with current situations.
Adapt the plan: If some of your main business drivers rely on tradeshows or other large in-person events, find alternative ways to reach your customers, such as hosting a free webinar or virtual event. For many businesses, the majority of their customers will now come to them via a screen, so give them something positive to look at, something that lifts spirits or brings levity.
Find Your New Strategy
As you watch the emerging market trends, your business may need to change its response strategy in order to remain relevant or in business—or both. Businesses that are agile enough to make quick changes on product/service, go-to-market strategy, or infrastructure could benefit from one of Sloan's three strategies:
Same Products, Different Channel: Offer the same products and services you always have but switch to an online channel. Even smaller ecommerce businesses can participate in this strategy, offering home-recorded videos on social media that demonstrate how products can be used, or moving in-person training services to online events.
Same Infrastructure, Different Products: What if you sell something that is no longer in demand due to the pandemic? The answer: Find a related product or service that is in demand and pivot to offering that. Consider selling a new product to help customers, or repurposing something you already stock to create a different in-demand product.
Same Products, Different Infrastructure: Some businesses are actually inundated as demand for their critical products skyrockets beyond their capacity to meet demand. Altering an infrastructure is not easy and may require some help from external partners. If your products are in demand and you're struggling to meet order fulfillment requirements, consider partnering with a local restaurant or hospitality group to hire furloughed employees on a temporary basis.
The New Marketing "Normal"
Even as states are reopening, it could be some time before the economy and public life is back to "normal." Even then, the future "normal" may not be the same as the world we lived in earlier in 2020. Be prepared to continue shifting marketing plans for the rest of 2020 and perhaps into 2021. Continually updating your business' best, worst, and moderate-case scenarios will help you pivot both product and marketing to meet the needs of this continually shifting economy and ideally empower your business to continue providing into the future for your customers and your employees alike.
Shifting to online channels or newer digital offerings can make tracking data and connecting information a challenge. Keep your data flowing between online ecommerce platforms, third-party carts, warehouse management systems, and even CRMs so you can keep close tabs on your customer needs, purchasing patterns, inventory, and more. IN-SYNCH® Sage 100 and Sage 100cloud integration by ROI keeps the information flowing from your Sage ERP to any third party you can imagine. With real-time access to changes and updates as they occur, you have access to data that can feed your scenario planning and provide necessary proof for adopting to new strategies as the economy and customer behaviors shift.
See how IN-SYNCH can provide the data access you need for your marketing strategies. Request a demo today.