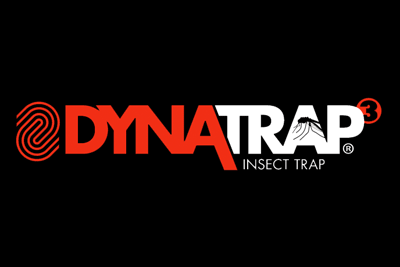 Challenge:
Dynamic Solutions Worldwide is on a mission—to make people's lives better by placing a DYNATRAP® product in every home and office in America. The Dynatrap Insect Trap is an award-winning product that protects against mosquitoes and other flying insects without the use of pesticides.
The company, headquartered in Milwaukee, was founded in 2010 and, since then, has experienced double-digit annual growth. Dynamic Solutions has been on the Inc. 5000 list of the fastest growing privately-held companies in the U.S. for the past three years. Their growth comes through sales of their products through multiple channels including major retail stores, catalog companies, and ecommerce sites.
Dynamic Solutions doesn't sit around and wait for things to happen; they plan ahead to have the automation and processes in place to support their growth. Dean Johnson, Vice President-Operations—one of three company founders—describes their philosophy, "We are 'Dyna-preneurs.' We are adamant about leveraging resources. We outsource fulfillment, our call center, and technology deployment. We want to use automation rather than hiring more people. We invest in technology that enables us to do things in a few keystrokes."
This forward-thinking company needs automation solutions that can meet its needs not just for today but also for the future.
Solution:
A key automation need for Dynamic Solutions is real-time data transfer between their Sage 100 business system and their multiple sales channels and fulfillment centers.
"We found ROI Consulting through our Sage vendor, Vrakas/Blum. ROI leapt out as the leader in Sage 100 integration. Other solutions were clumsy; none could do it as smoothly as IN-SYNCH," says Johnson. Dynamic Solutions now has multiple In-SYNCH Sage 100 integrations that include WooCommerce websites, Walmart and Amazon marketplaces, and third-party logistics (3PL).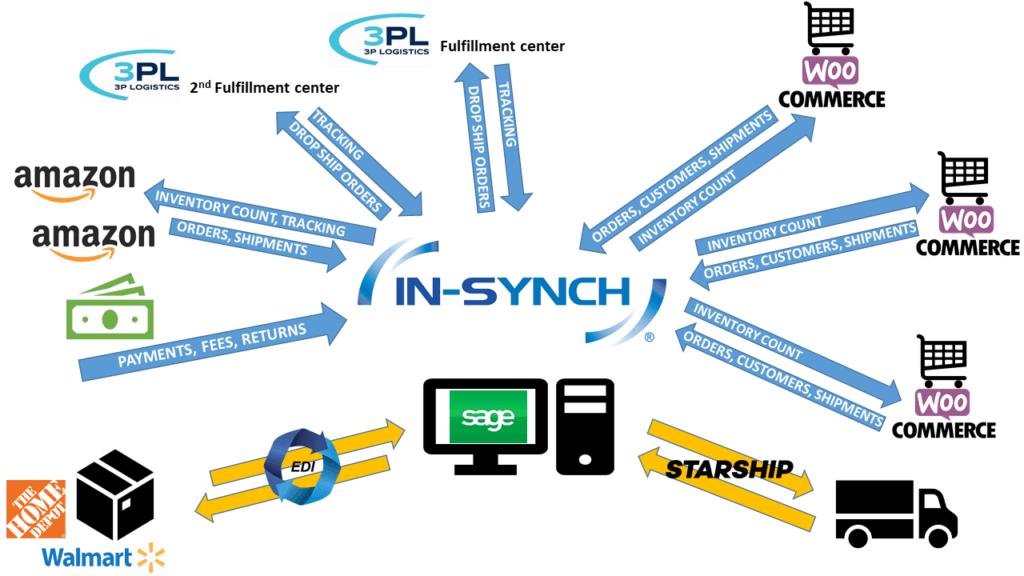 Result:
Accurate, Real-Time Data Through WooCommerce and Sage 100 Integration
The first IN-SYNCH automation was real-time data integration between Sage 100 and an e-commerce website. Originally, it made more sense to have a person input the orders manually. As online sales grew, Dynamic Solutions turned to ROI Consulting to automate the process. Now when an order is submitted on the site, a Customer and a Sales Order is created in Sage. Data flows back to the shopping cart including inventory quantities and invoice tracking numbers. This enables Dynamic Solutions to offer a better online experience for their customers.
Automated, Custom Data Transfer with 3PLs
One of the critical needs for automation is data communications with Dynamic Solutions' outsourced fulfillment centers. "In the beginning, we did an Excel data dump at the end of the day, but there were limitations to this process. We spent a lot of time trying to get the correct information into the systems. We considered using EDI, but our fulfillment center preferred API calls—something that we knew IN-SYNCH could do for us," explains Johnson. "As we grew, things changed dramatically. Our customers increased their demands for custom labels, special packing slips and unique fields. The information needed to be communicated effectively to our 3PL's to successfully meet our customers' needs. The ability of ROI to customize IN-SYNCH to meet our needs has been critical."
What once took 2.5 people to enter data, now takes one person to manage the data flow with 3PL partners. With IN-SYNCH, orders are sent in real-time to the 3PL. Once shipped, IN-SYNCH automates shipment tracking in Sage 100. When Dynamic Solutions needed to add another 3PL in Canada with its own API, In-SYNCH could be customized again for that integration.
Simplified Amazon Marketplace Transactions
Dynamic Solutions was selling on Amazon early on in Vendor Central. These were mainly large orders with lots of items. "With the lower transaction volume, manual processes were okay. Someone typed the orders from Amazon into Sage 100, then typed tracking numbers into Amazon," states Johnson. "However, when we expanded to Seller Central—our own store inside of Amazon—and Fulfillment by Amazon, we knew we needed to automate before transactions and volumes increased." With IN-SYNCH, sales orders move through the Amazon API to Sage 100. When an order is shipped, the tracking numbers are sent to Amazon. Inventory movements in Sage are updated in real time. Using IN-SYNCH, Dynamic Solutions is able to meet Amazon's strict timelines and requirements.
Automated Amazon Payments Report Reconciliation
Another integration effort that saved time was Amazon Payments Report automation. These are the financial reports that come from Amazon that need to be reconciled to transactions in Sage 100. Data includes commissions, fees, returns, and inventory losses. Using IN-SYNCH, Dynamic Solutions can automatically download the remittance report from Amazon, classify each line and send the right transaction to Sage. Johnson describes the impact of the automation: "One of our staff accountants would be up to midnight processing those payments and getting them to match. With automation, she spends 10-15% of the previous time. Now, she only needs to work on problem transactions."
Focus on Value-Added Activities, not the Process
One of the major benefits of automation is that it turns the focus away from the repeatable processes and toward things that make a difference. Says Johnson, "Automation makes everything rigid and repeatable. By eliminating manual processes, workers can spend their time on value-added activities. They can identify problem areas and focus on resolving them."
Will there be more automation in the future? "It depends on what our customers ask us for," states Johnson. "We know that ROI Consulting can darn near do anything. Their knowledge about the Sage 100 back room is phenomenal. They are great to work with for customized requirements. We could not be where we are without the IN-SYNCH connection."
Update:
In November 2019, Dynamic Solutions Worldwide was acquired by Woodstream Corporation. According to their press release, "The addition of DynaTrap not only adds a highly regarded and successful product line to Woodstream's existing offers, but it also introduces us to