Sage 100 Integration Done Right
3PL

Applications

Websites

Marketplaces

Databases

Portals
Put
IN-SYNCH

To Work For You
Integrate with Existing or New e-Commerce Websites and Marketplaces
Want to integrate with marketplaces (Amazon, eBay, etc.) or website shopping carts? You've come to the right place! We've been integrating websites with Sage 100 (MAS 90) since 1998. If you are in the market for a new website with an integrated shopping cart, we have the team and the expertise to assist you in identifying your new web store solution.
Intercompany Integrations
If you need to integrate intercompany data movements within Your Sage 100cloud accounting system, we can automate workflows and eliminate manual postings.
Third Party Program Integrations
IN-SYNCH's flexibility allows us to integrate your Sage 100 accounting system with third-party applications to save you time and money!
Watch Our 60-second Video:
How IN-SYNCH Works for You
See how IN-SYNCH simplifies your business through integration and customization. Let our in-depth knowledge and decades of experience save you time and money.
Real-time, bidirectional synchronization
Lightning fast
Secure
24/7 independence
Flexible & scalable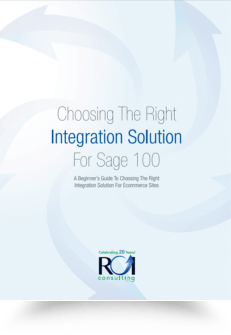 Learn How to Choose an Integrated
e-Commerce and Front End
Solution for Sage 100
Over the past 15 years, general retail has grown by 2.5% per year. During the same time-frame, e-commerce sales have grown 20%. The economic outlook for e-commerce looks promising, with sales projected to reach nearly $500 billion in the United States alone …